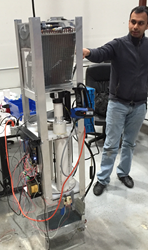 Our PureWater16 machine is a true IoT solution
Redwood CIty, California (PRWEB) May 05, 2016
Dew, a Silicon Valley water technology company with an advanced, dual-stage air-to-water or AWG machine has been selected as a finalist in Samsung's Makers Against Drought (M.A.D.) Challenge.
Dew's PureWater 16, which can produce pure, potable water on demand, was one of 10 finalists chosen out of 47 different technologies that were focused on mitigating California's drought. The first part of the competition ended April 1, and the announcement of the 10 finalists and 10 honorable mentions was made at the Samsung Developers Conference April 27 in San Francisco.
A Samsung spokesperson complimented those who participated, saying that the company "was amazed at the sheer number of ideas and ingenious solutions proposed to alleviate the water crisis in California and other drought-stricken regions of the world."
The challenge offers $210,500 in total prizes, with $2,000 to each of the 10 Honorable Mentions, and $10,000 to the Finalists. Now the finalists have until June 17 to fine-tune their projects before judging takes place from June 18 – 28.
Selection of the Grand Prize Winner will be based on in-person or virtual presentations given by the 10 finalists during the final judging period. The winning solution will receive an additional $90,000. The Grand Prize Winner on July 1.
The competition is aimed at generating Internet of Things, or IOT, solutions to California's water crisis, and reaches out to the "makers" community. The makers community is a technology-based subculture that is described by the New York Times as "kitchen table industrialists." Typical pursuits by makers include engineering-oriented projects, robotics, 3-D printing, waterjet cutting and more traditional pursuits like metalworking, and woodworking.
While Dew is a water technology company with expertize in mechanical and chemical engineering, its roots are in the tradition of historic Silicon Valley innovation. The first version of the machine was built in a co-founders garage, and the prototype was perfected in the back room of a small Scotts Valley manufacturing shop. Products like Dew's PureWater machine that can generate 16 liters of water every 24 hours is a classic example of Silicon Valley knowhow, exceptional engineering, and makers problem solving.
With an ARTIK module for connectivity, Dew's machine uses real time data to optimize efficiency. The machine mixes weather data with electricity rates for cost-effective production. It also learns the behavior of users and adjusts fill levels and can be accessed remotely.
"Our machine is a true IoT solution, and maximizes production and efficiency in ways that were never possible before Internet connectivity," Grant Cooke, a company director said. "Harvesting water from the atmosphere is only the beginning. Doing it efficiently and cost-effectively is the key to providing much needed water for a thirsty planet."
According to Cooke, the PureWater machine represents a major breakthrough in water generation. Imagine generating drinking water on demand, he said, that doesn't flow through corroded pipes or is constrained by a failing water infrastructure or tainted with encroaching salt water. Dew's dual-stage process not only provides pure water it allows the machine to function in semi-arid conditions.
The company was recently accepted into Cardinal Ventures, Stanford University's accelerator program for entrepreneurs and start-ups. For information call 925-989-7117, or visit the website at http://www.getdew.com.