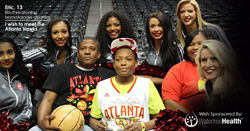 Corporate sponsors like Watertree Health make these experiences possible – They understand the power of fulfilling wishes.
Ridgeland, MS (PRWEB) May 05, 2016
Every year 220 Mississippi kids are diagnosed with life-threatening medical conditions and Make-A-Wish grants the most heartfelt wishes of these children. The wishes provide hope and motivation through positive experiences while they endure long rounds of medical treatment. President and CEO of Make-A-Wish Mississippi, Brent Wilson said, "In 2016, the organization will grant 50% of wishes deemed eligible, which is about 110 wishes. Corporate sponsors like Watertree Health make this possible – They understand the power of fulfilling wishes."
Through an ongoing national program benefitting Make-A-Wish, Watertree Health has raised over $860,000 and sponsored 87 wishes for the organization since November 2014. Last month, the Company helped grant the wish of thirteen-year-old Mississippi native Eric, who wanted to attend an Atlanta Hawks basketball game and meet his favorite player, Kyle Korver. On March 17th, Eric spent the day with the team and enjoyed courtside seats to watch the Hawks beat the Denver Nuggets.
While Eric was in Atlanta, he was also treated to a private tour of the College Football Hall of Fame and Chick-fil-A Fan Experience. On Game Day, Eric was able to participate in the pre-game shoot around. The trip concluded with a private tour of the World of Coca Cola Museum and some free time to enjoy Atlanta.
Shane Power, President of Watertree Health said, "This wish is particularly moving for me as a former basketball player for Mississippi State and long-time supporter of Make-A-Wish. I am deeply grateful that my Company was able to sponsor Eric's wish, and provide his entire family with many happy memories. My highest priority is making the greatest possible impact on the lives of wish kids and their families. I want to help Make-A-Wish exceed their goals."
To get a prescription discount card benefitting Make-A-Wish, go to http://www.WatertreeHealthCard.com/wish or text WISH to 95577. For more information about Make-A-Wish, go to wish.org. Visit http://wtree.us/maw to learn more about Watertree Health's alliance with Make-A-Wish.
About Make-A-Wish Mississippi:
Make-A-Wish Mississippi grants the wishes of children with life-threatening medical conditions to enrich the human experience with hope, strength and joy. According to a 2011 U.S. study of wish impact, most health professionals surveyed believe a wish-come-true has positive impacts on the health of children. Kids say wishes give them renewed strength to fight their illness, and their parents say these experiences help strengthen the entire family. Mississippi's chapter, based in Ridgeland and Gulfport, with the help of generous donors and volunteers grants at least 100 wishes a year. Visit Make-A-Wish at http://www.ms.wish.org to learn more.
About Watertree Health
Watertree Health was founded in 2010 to address the growing need for accessible and affordable health care products and services in America. The Company's free Prescription Discount Card saves money on most FDA-approved brand and generic medications, at most pharmacies nationwide. The Greatest Prescription Savings tool (wtree.us/savingstool/wish) provides the lowest costs on medicines using the card at nearby pharmacies.