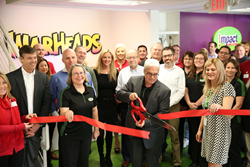 "Our new home in Janesville was built from the ground up to maintain our commitment to quality and innovation."
Janesville, Wisconsin (PRWEB) May 05, 2016
Impact Confections has moved its corporate headquarters from Littleton, Colorado to Janesville, Wisconsin. The move comes in response to increased demand of WARHEADS® Sour Candies and the Melster brand of marshmallow treats and taffy.
"Our new home in Janesville was built from the ground up to maintain our commitment to quality and innovation," said Jeff Rome, CEO and President of Impact Confections, Inc. "This move completes our consolidation as we are now under the same roof as our state-of-the-art SQF certified facility. Our new open-space office fosters improved collaboration and communication which will enable us to bring new ideas to market faster."
The grand opening of the new Impact Confections offices were commemorated on April 20, 2016 with a ribbon cutting event attended by local business and civic leaders from the Janesville area. Guests enjoyed a tour of the new offices and celebrated with a WARHEADS Sour Splash, a soft drink made with WARHEADS Extreme Sour candies designed especially for the event.
About Impact Confections
Impact Confections is a U.S. based manufacturer of innovative candies marketed under the WARHEADS and Melster Candies Brands. WARHEADS is one of the most recognized sour candies in the market. Melster Candies, established in 1919, has been delighting consumers and retailers with its marshmallow treats for decades. Impact Confections maintains a state-of-the-art, SQF Certified facility located in Janesville, WI where most of its branded and co-manufactured line of candies is produced.