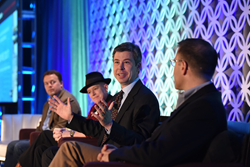 Our Region Must Collaborate to Build Communities, Workplaces, and Broadband Connectivity that Attract Startups and Millennials
White Plains, New York (PRWEB) May 05, 2016
The future of Smart Growth in Westchester County began today in earnest as leaders from various business, government, nonprofit, and financial sectors convened at the Westchester County Association's (WCA) sold-out conference, "Westchester: County of Tomorrow."
Provocative speakers from New York City, Austin, Chattanooga, and Raleigh explained how their regions created innovation eco-systems to ride a tide of demographic and technological trends — trends that are rewriting the rules of economic development in the United States today. The WCA, the preeminent business leadership organization serving Westchester County, organized the conference as part of its new "BLUEPRINT for Smart Growth" for the region.
"Welcome to the future," said William M. Mooney, Jr., president and CEO of the WCA, at the conference start. "This is easily the most important conference in our region in a decade. Westchester County is on the cusp of greatness as we are about to turn this region into a major national hub of innovation and flourishing business. The outstanding individuals here today came from across the USA to share their experiences and insights to help us at this important juncture."
Presenters and panelists spoke of the urgent need for collaboration among business leaders, officials, and educational institutions to set a bold vision for the future, and use communication, public-private financing, and political will to achieve it. "You can lead through influence," said Susan Dawson, executive director of the E3 Alliance, which has reduced truancy and advanced STEM education in Austin. "Use data to tell a story, and make it memorable," she said.
Keynote speaker Dean Whittaker, an economic development futurist and CEO of Whittaker Associates, Inc., said the County's future depends on thinking long-term and looking at the emerging trends shaping the future. "In business, we used to say 'Adapt or Die,' but that's not true anymore. It's 'Anticipate or Die.' You have to get out in front of everything."
"PERILS OF HOLDING ONTO YOUR PAST"
Whittaker's view was echoed by Mayor Andy Berke of Chattanooga, which, he said, has been transformed from what Walter Cronkite once called "the Dirtiest City in the Nation" to one of the best cities in the nation. Speaking as part of a panel on "How We Did It: What It Took to Build an Innovation Hub," Berke said, "Chattanooga understands the perils of holding onto your past for too long," noting the flight of jobs overseas destroyed the city's manufacturing-based economy. The city's response was to develop the fastest broadband network in the country, 10 gigabits, which is available to every home and business in the city. "It transformed the economy," he said.
Seth Pinsky, an executive at RXR Realty and former economic development director for former New York City Mayor Michael Bloomberg, explained how New York City took bold steps to diversify its economy, which had mostly relied on Wall Street, by investing in quality of life initiatives and infrastructure. Pinsky urged Westchester leaders to take the same approach. "Be strategic rather than tactical. [Economic development initiatives should] focus on the business environment, not on chasing individual companies and 100 jobs."
"Westchester can do it," said Andrew C. Peskoe, an attorney, private investor, and principal of Israel Cleantech Ventures, Inc. "Build the physical plant for incubators, offices for venture capitalists, and collaborative work space that young people want." Peskoe and fellow panelists speaking on the panel "P3 for Smart Growth – Show Me the Money!" emphasized the necessity of building communities to attract millennials. "Millennials comprise the largest segment of today's workforce, but they have specific ways they want to live, work, and play," he said.
"The question for Westchester is how are going to get our millennials back," asked Christopher B. Fisher, a partner at Cuddy & Feder, LLP. "They want affordability, transportation, connectivity, and work/live communities. We need to focus on millennial policies to fit the structure that millennials need."
TAKE TO THE SKY TO BEAT TRAFFIC
Millennials are not big on cars, and neither is Gerald Jay Sanders, chairman and CEO of SkyTranTM, a NASA Space Act company, that is developing a high-speed, low-cost elevated Personal Rapid Transportation system, propelled by magnetic levitation. "Despite all the advances in medicine and technology, we are [travelling] slower today than in the 1950s. The core problem is surface traffic, " he said in his presentation. A SkyTran prototype has been constructed in Israel. The system consists of compact 2-passenger vehicles that glide along elevated guideways at speeds of up to 150 mph. SkyTran could be a solution for traffic-choked roadways in Westchester, he suggested, especially along the I-287 corridor and in and around Westchester's cities.
Speakers at Westchester: County of Tomorrow also included Joan M. McDonald, president of JMM Strategic Solutions, and former commissioner of the New York State Department of Transportation, who moderated the panel on "How We Did It: What It Took to Build an Innovation Hub." The panelists were Mayor Berke, Susan Dawson, Seth Pinsky, and Jason Widen, co-founder of HQ Raleigh.
The second panel, "P3 for Smart Growth — Show Me the Money!" was moderated by Mark Strauss, a senior partner at FXFOWLE, an architecture and planning firm. Panelists included Fisher, Peskoe, Mary Scott Nabers, president and CEO of Strategic Partnerships, Inc.; and Jess Zimbabwe, director of urban development at the National League of Cities.
Conference speakers and participants commented afterwards that the conference marked a turning point. As keynote speaker Whittaker said, "Not many regions are thinking about these things. You are showing great leadership here."
William V. Cuddy, Jr. chairman of the WCA's BLUEPRINT for Smart Growth, said the WCA is committed to using the lessons learned at the conference to develop a regional strategy for the future. "We have learned that we need data, we need to collaborate, cooperate, and communicate our vision to the public," he said. He announced that the WCA will be setting up task forces as part of the BLUEPRINT to get the ball rolling.
"Westchester and the region have made great progress since we began our BLUEPRINT initiatives in 2011, and we are now recognized nationwide as an emerging innovation hub and biotech center," he said. "We know we have what it takes to now create an entrepreneurial economy: we have the livable cities, an educated workforce, and proximity to New York City. The WCA is determined to take action today to take control of our future."
ABOUT THE BLUEPRINT FOR SMART GROWTH
The BLUEPRINT for Smart Growth focuses on Westchester's cities – and issues of sustainability, mass transportation, high speed Internet, and affordable housing. It is a subset of the Westchester County Association's BLUEPRINT for Westchester, created in 2011 to revitalize Westchester's economy in collaboration with the county's real estate, business, and academic sectors, with strong participation from Westchester's six cities and County government.
ABOUT THE WESTCHESTER COUNTY ASSOCIATION
The Westchester County Association is the preeminent business leadership organization serving Westchester County. The Association is committed to business advocacy, economic vitality and to providing a strong and clear voice for the interests of businesses on the regional, national and international levels. Its key objectives are promoting positive economic development in the region; fostering business development; and providing its members with access and interaction with key public and private sector individuals, agencies and organizations.