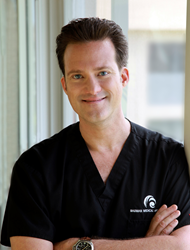 "It's important for women to understand that there is a whole range of effective treatment options available for them that can prevent, control and reverse the hair loss process."
Boca Raton, Florida (PRWEB) May 05, 2016
Is the part in your hair widening? Are you finding more hairs on the pillow?
With Mother's Day just a few days away, it's a good opportunity to raise awareness about a common condition among women: hair loss.
Believe it or not, according to the American Academy of Dermatology, 40% of women experience hair loss or 'thinning' by the time they reach menopause, but many remain in the dark about this condition and the treatment options available.
"Female hair loss is extremely common and extremely misunderstood," said Alan J. Bauman, M.D., a board-certified hair restoration physician and founder of Bauman Medical Group. "While women experience high rates of hair loss just like men do, the public awareness is far below that of what is for men. Women with thinning hair tend to suffer a far greater psychological and social burden than men. It's important for women to understand that there is a whole range of effective treatment options available for them that can prevent, control and reverse the hair loss process."
Women's hair loss can be caused by a variety of factors, including genetics, hormonal changes, diet, health, medications and stress. Before undergoing any treatment, women should visit a board-certified hair restoration physician to determine the underlying cause of their follicle miniaturization.
As a hair loss specialist and new treatment pioneer, Dr. Bauman regularly tests new therapies and products developed by Fortune 500s, startups and independent researchers for female hair loss and unhealthy hair. Based on his extensive research and clinical experience, here are Dr. Bauman's top nine recommendations for women:
1) Topical and Oral Treatments: In addition to the over-the-counter Rogaine for Women, topical treatments include compounded topical minoxidil Formula 82M and Latisse/Bimatoprost or other prostaglandin analogs. Post-menopausal women may also be candidates for finasteride based treatments, like the specially compounded FinPlus.
2) Scalp Makeover: New "scalp makeovers" are available to treat various hair and scalp problems, including thinning - it's sort of like a high-tech facial for the scalp. Evaluations start with a detailed scientific "Trico-Test" and treatments range from sebum-regulating topical serums to scalp steaming and massage, moisturizing lotions and hair boosting dermal patches.
3) Low Level Laser Therapy: FDA cleared low-level lasers are a key new weapon in the battle against thinning. These lasers are available in "combs" or brushes, laser-embedded ball caps, and large laser hoods, which look like salon hair dryers.
4) Nutritionals: Hair care also comes in pill form. Hair vitamins and supplements, like Viviscal Pro and "SuperBiotin" can help your hair become shinier, fuller and stronger.
5) Platelet Rich Plasma Therapy, or PRP: Also called, "the vampire," PRP uses a patient's own blood, which is naturally enhanced to boost the number of platelets and key growth factors. It is then reinjected into the scalp, where it revives dying follicles and regrows lost hair.
6) Minimally Invasive Surgery: No-scalpel/no-stitch harvesting techniques like NeoGraft FUE and ARTAS robotic-assisted transplants can restore density in severely depleted areas of scalp without the risks of scarring, discomfort, downtime and unnaturalness of old-style procedures.
7) Hair Replacement Systems: For women who are not candidates for hair transplantation due to autoimmune alopecias, injury or chemotherapy, a non-surgical medical-grade hair prosthesis can be an effective short- or long-term option. Bauman Medical offers the CNC hair replacement system by Cesare Ragazzi.
8) Genetic Testing: New genetic tests like those provided by HairDX can accurately predict a woman's risk of hair loss later in life, as well as if she will benefit from alternative treatments like finasteride.
9) Tracking Hair Loss and Recovery: A new hair loss measurement tool known as the HairCheck accurately determines the amount and quality of hair growing in a given area of the scalp. This is an effective way to gauge the severity of a woman's hair loss early on, and how well she is responding to restorative treatments.
Women who are suffering from hair loss or thinning, should contact an experienced hair restoration physician who can work with them to determine the most effective treatment regimen for their specific needs. Patients should look for a doctor who is a full-time medical hair loss specialist certified by the American Board of Hair Restoration Surgery and recommended by the American Hair Loss Association.
About Bauman Medical:
Bauman Medical is the world's largest stand-alone facility dedicated to the treatment of male and female hair loss issues, scalp health and hair restoration. The clinic was founded in 1997 by Dr. Alan Bauman, who has treated over 17,000 patients and performed over 7,000 hair transplant procedures.
Dr. Bauman received his M.D. degree from New York Medical College and completed surgical residency training at Mt. Sinai Medical Center and Beth Israel Medical Center in New York. He is one of approximately 100 physicians worldwide to achieve board certification from the esteemed American and International Board of Hair Restoration Surgery. He is also a Fellow of the International Society of Hair Restoration Surgery, and an active participant and lecturer at numerous Annual Scientific Meetings and Live Surgery Workshops.
Dr. Bauman is an author of textbook chapters on the science of hair care and hair transplantation, including eyelash transplant surgery, and has been extensively featured in the world's leading media as a medical expert and successful early-adopter of some of the most advanced technologies in the treatment of hair loss such as laser therapy, PRP Platelet Rich Plasma, as well as FUE hair transplantation using NeoGraft and the ARTAS robotic hair transplant system.
For more information visit http://www.BaumanMedical.com.