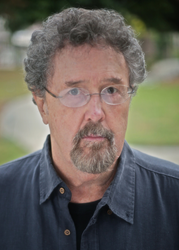 For a long time, I said that getting published was a three-step process: write your book, sell your book, hate your cover.
Key West, Florida (PRWEB) May 04, 2016
Timothy Hallinan, acclaimed author of three mystery/thriller series and several writing compendium projects, as well as a biography of Charles Dickens, is set to appear as a featured speaker and panelist at the upcoming Mystery Writers Key West Fest, set for June 10-12 in Key West, Florida.
With more than two-dozen titles to his credit, Hallinan's works have earned prestigious Edgar, Shamus, Macavity, and Nero award nominations and several have been optioned for television and film.
His first series, written in the early to mid-1990's starred the "uselessly over-educated" LA private eye Simeon Grist. In 2007 he launched the Poke Rafferty series - thrillers with heart, soul and a keen social conscience - set in Bangkok. His third series, which hit the stands in 2010, takes a comic twist with the adventures of Junior Bender, a "thief's thief with a moral compass" who works as a PA for the criminal element.
In advance of the Fest, the Southeast Asia and California-based author agreed to answer a few questions about his work:
Q: When you wrote your first Simeon Grist thriller, were you already thinking ahead to a series? Was Grist based on someone you knew?
TH: Yes, since it was a slavish and entirely unsuccessful attempt to channel Raymond Chandler, I was thinking of it as a series. I proved that by throwing away the first one ("The Wrong End of the Rainbow," a title I still like) and immediately writing "Skin Deep," which landed me a three-book, and then a six-book, contract with William Morrow.
Simeon and I have too much in common for me to duck the question of whom he was based on. We both had useless college degrees and failed relationships, we were both rudderless slackers, and we both lived in that awful Topanga Canyon shack. I've always thought that Simeon was a braver me. On a good hair day.
Q: Following Simon Grist you have alternated between dramatic and comic suspense: Your seven Poke Rafferty thrillers, released between 2007 and 2015, center around Bangkok-based travel writer Rafferty, his wife Rose - former "queen" of the Patpong bars - and their adopted street-child. Your Junior Bender series books - the fourth of which won a Lefty Award as best Comic Mystery of 2014 - were released between 2010 and 2016. Do you ever work on both series simultaneously? What is it like to transition between the very different worlds inhabited by your heroes?
TH: It's so difficult I don't even attempt it without a buffering period between one series and the next.
Just recently I was forced to violate that rule—to abandon the next Bangkok book, "Fools' River," and write a Junior Bender Christmas book, "Fields Where They Lay." When I say "forced," I mean I was in the happy position of having my editor, the remarkable and infallible Juliet Grames, say she really wanted the holiday book my agent had described to her, and what's more, she wanted it two weeks before he described it. Putting down "Fools' River" and jumping into "Fields Where They Lay" was about as hard as anything I've ever done as a writer. Everything was different: the rhythm, the tone, the emotional pitch, my relationship to the reader, my attitude toward the issues at the center of the two books, just everything.
And when I finished "Fields Where They Lay," I had to turn right around and go back to "Fools' River." It was just as hard to reverse the process. In fact, a couple of months later I still don't feel I've made it all the way back in to "Fools' River."
Q: How involved are you with the creation of your book cover artwork?
TH: Not at all, and I'm very happy about that. Soho's design sense is marvelous. For a long time, I said that getting published was a three-step process: write your book, sell your book, hate your cover. But not any more. They pass the cover concepts by me as a courtesy, but I love what they do to my books.
Recognized as a masterful writer, Hallinan is also a writing instructor. He is the facilitator/editor of "Making Story," in which 21 novelists (Hallinan included,) describe how they go about turning "an idea into a plot and a plot into a book" and he is author of "Finish Your Novel" which is available for free on his website at timothyhallinan.com.
Set to appear with Hallinan at the Mystery Writers Key West Fest are some two dozen high-profile and award winning mystery and crime fiction authors and true-crime experts, including keynote speaker, New York Times bestselling author Robert K. Tanenbaum, New York Times and USA Today best-selling author Heather Graham; New York Times bestselling author Lisa Black, award-winning crime and science fiction writer James O. Born and many others.
Sponsored by the Mystery Writers of America – Florida Chapter, the Key West Citizen daily newspaper and the Florida Keys Council of the Arts, Mystery Writers Key West Fest registration includes all panels, presentations and four meals and is $175. An early bird hotel rate is available for those who book by May 15. For a full Fest schedule, online registration and links to accommodations visit mysterywriterskeywestfest.com. (High resolution author photo available.)