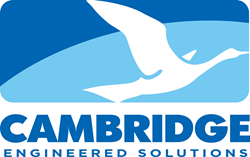 These business partners give us an even stronger European network, while we continue to grow our reach and develop new territories in South Asia and along the Pacific Rim." Tracy Tyler, Cambridge Engineered Solutions President and CEO
Cambridge, Maryland, USA (PRWEB) May 04, 2016
Cambridge Engineered Solutions, the world's largest manufacturer of metal conveyor belts, today announced it has expanded its international presence by adding five new representatives in Australia/New Zealand, Denmark, India, Japan and Romania.
"These business partners give us an even stronger European network, particularly in Scandinavia and Eastern Europe, while we continue to grow our reach and develop new territories in South Asia and along the Pacific Rim," said Tracy Tyler, Cambridge Engineered Solutions President and CEO. "It also broadens Cambridge's strategic focus on supporting frozen food manufacturers and opens the door for added seafood processing."
Ten-year company veteran Mike Truitt leads Cambridge's business development outside the United States.
"Today, food processors around the world are driven to make smarter, quicker, safer and more cost-effective business decisions for their customers," he said. "Our total solutions expertise combined with our new representatives' extensive sales and distribution networks will boost overseas sales and open the door for new markets."
Cambridge designs and fabricates metal conveyor belts for companies around the world in food processing (baking, beverage, meat, poultry and snack foods), agriculture, packaging and industrial manufacturing (automotive, building products, carpeting, chemicals, electronics, glass, high temperature environments, protein and solar energy).
The new representatives are:
Asia:
6 Sigma Foodtech, India: Based in Pune, the equipment manufacturer will represent Cambridge among its network of customers in the world's second most populous country. Led by partner Dilip Wagh, the 35-year industry veteran will introduce Cambridge's sanitary and sustainable conveyor belts to India's fast-growing frozen food market.
Taiyo Wire Cloth, Japan: With more than 55 years in business, Tokyo-based TWC will grow existing relationships with Cambridge and increase focus on high temperature belts for the metal working industry manufacturing powdered metal parts. Executive Director Koji Harai will lead business development efforts.
Australia/New Zealand:
Applied Industrial Technologies, Australia/New Zealand: Offers more than 40 locations in Australia and New Zealand, where it will be Cambridge's preferred distributor. Under the direction of General Manager Michael Barrow, the company will work on new accounts and select key targets in food and industrial markets.
Europe:
DK Transporbaand, Denmark/Norway: A long-time Cambridge distributor based in Nyborg, Denmark, DK and its owner Bertel Dorph will concentrate on the region's burgeoning seafood industry, including conveyors for both fishing boats and seafood processing plants.
Scraba Technik, Romania: A known solutions provider in the food and industrial sectors, Joan Scraba and team will introduce Cambridge to the Romanian market.
About Cambridge Engineered Solutions
A division of Cambridge International, Cambridge is the world's largest metal conveyor belt manufacturer and a global leader in filtration screens. For more than a century, Cambridge has developed dynamic solutions, revolutionizing industry automation and plant operations. With more than 15 exclusive product lines and over 50 patents, our team of dedicated engineers and experts continually devise new methods to make lines run smoother, faster and handle more product weight. For information visit http://www.cambridge-es.com.
###