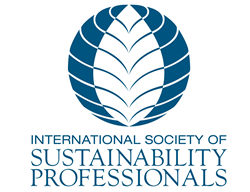 We're very grateful for the tremendous support that our certification program has received to date.
Hartford, CT (PRWEB) May 04, 2016
The International Society of Sustainability Professionals (ISSP) has released the names of the latest group of individuals who have successfully completed the beta test of the globally recognized ISSP Sustainability Professional Certification Program. These individuals join the initial cohort of sustainability professionals who have successfully qualified for the ISSP Sustainability Associate (ISSP-SA) or the ISSP Certified Sustainability Professional (ISSP-CSP) designations. Since beta testing of the certification program began last summer, more than 240 people worldwide have earned either an ISSP-SA or ISSP-CSP certification.
Through their participation in the beta certification program, these pioneers have helped to validate the exam and test the processes used to apply for, score, and award the ISSP Sustainability Professional credentials. ISSP plans to fully launch the program later this year.
"We're very grateful for the tremendous support that our certification program has received to date," said Maureen Hart, Executive Director of ISSP. "The fact that sustainability professionals from all regions of the world invested time and effort to complete the beta certification process demonstrates the interest that exists for establishing internationally recognized credentials for those working in the sustainability arena."
The ISSP Sustainability Professional Certification credentials are the result of a collaborative, multi-year, transparent development process involving hundreds of sustainability professionals and partner organizations who continue to contribute to the program's content and administrative processes. A current list of supporting organizations and individuals can be found here. ISSP welcomes conversations with members, other sustainability professionals and like-minded organizations who are interested in supporting the Certification effort.
ISSP is following the internationally recognized ISO 17024 standard in development of the Sustainability Professional Certification program. ISO 17024 sets out globally recognized criteria for creating a certification program for individuals. Adhering to the ISO 17024 standard ensures that the ISSP Certification provides a global benchmark for sustainability professionals and industry-recognized credentials that can be carried across national borders.
About ISSP Sustainability Professional Certification
The ISSP Sustainability Professional credentials are recognition of achievement and competency for both new and experienced professionals that goes beyond the completion of coursework (i.e. a "certificate"). Certification requires ongoing maintenance and commitment to professional development and learning, similar to other professional certifications. Here's a look at the two levels of ISSP Professional Certification.

Sustainability Associate (ISSP-SA): For individuals who are relatively new to the field of sustainability but have sufficient education and training to pass a test on core knowledge and understanding of key sustainability concepts.
Certified Sustainability Professional (ISSP-CSP): A designation for experienced sustainability practitioners who demonstrate a combination of sustainability-related work experience and formal education. Obtaining the ISSP-CSP also requires a passing grade on the ISSP-SA test.
Both certifications require ongoing maintenance in the form of CEU's (Continuing Education Credits) that will be verified every three years, and can be achieved through a number of vehicles, as described in the ISSP Sustainability Professional Beta Test Candidate Handbook.
To learn more about ISSP Sustainability Professional Certification, please visit http://bit.ly/1I0zVtj.
About ISSP
The International Society of Sustainability Professionals (ISSP) is the world's leading professional association for sustainability professionals. ISSP is a member-driven association committed to moving the profession of sustainability forward by leading the design and delivery of sustainability professional certification, and by building strong networks and communities of practice. Webinars, online courses, a sustainability educational certificate, sustainability professional's body of knowledge, special reports, resource directories and salary surveys are just a sampling of the rich content offered to members. Formed in 2007, ISSP boasts almost 1000 members from every region of the world.