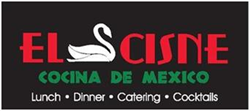 Tucson, AZ (PRWEB) May 04, 2016
This month, Tucson favorite El Cisne ("the swan"), at Swan Road and Sunrise Drive, unveils three new seasonal additions to its menu which represent a little known facet of Mexican dining—Italian fare with a Mexican twist. It is in this spirit El Cisne will feature Fettuccini Pasta Bolognesa, Fettuccini Pasta Alfredo, and Chile en Nogada throughout the month of May, along with its existing cocina de México.
Like most large countries, Mexico has a history of immigrants leaving their impression on the local food scene and in the late 19th century it was Italian immigrants doing so in Mexican states like Puebla and Veracruz. In fact, the city of Chipilo in Puebla was founded by northern Italian immigrants in 1882.
El Cisne's featured regional dishes at once embrace Mexican and Italian cuisine while simultaneously presenting a palate-pleasing cohesion of classic dishes modified by Italian immigrants in Mexico. The traditional Bolognese sauce receives a touch of diced chile for an addition which provides seamless enhancement and gives a distinctive Mexican profile. The Chile en Nogada provides an elegantly refreshing take on the well-loved chile relleno. This round-shaped poblano chile is filled with ground sirloin, raisins, and spices, and topped with a creamy white walnut and almond nougat sauce and a sprinkle of pomegranate seeds.
Beyond this month's special entrées, El Cisne features dishes representative of Mexico's North, South, and Gulf Coast regions. In the spirit of the slow food movement, all recipes are made with only the freshest and highest-quality ingredients, hand-crafted Mexican cheese, seasonal produce, Angus beef, and free-range chicken. Fresh red snapper, gulf shrimp, Pacific salmon, scallops, and more are brought up from San Carlos, Mexico for use in the Veracruz-style Gulf Coast seafood plates. And everyday, El Cisne features 50 varieties of tequila from their popular Black Swan Tequila Bar.
Of course, in the Old Pueblo there are other Mexican restaurants offering the promise of authentic cuisine. More often than not, that food is reflective solely of the nearby Northern Mexican dishes popularized here in America—tacos, burritos, and enchiladas. At El Cisne, the restaurant focuses on three specific regions of Mexico and staying true to the ingredients used there so as to present a dish faithful to its origin. The resulting entrées provide an epicurean take on modern Mexican food which goes beyond what has become Americanized Mexican food.
To experience El Cisne's featured entrées, tequilas, live Mexican/Latin American entertainment, or the full menu, visit El Cisne, open seven days a week, at 4717 E. Sunrise Dr., or call (520) 638-6160 for more information.
For more about El Cisne, please visit ElCisneRestaurant.com. To schedule an interview with Phil or George Ferranti, please call the contacts listed below.
About El Cisne
El Cisne, meaning "the swan" in Spanish, has been serving exceptional variations of fine Mexican food. Owned by well-known Tucson restaurateur, Phil Ferranti, and operated with his son, George Ferranti, and long-time manager Nancy Carnero, El Cisne's recipes, chefs, and management bring decades of tradition interpreted though a modern lens. With a specialization in exquisitely prepared seafood and steaks, El Cisne embraces Mexico's multicultural heritage to present dishes which reflect the Sonoran style of North Mexico, Oaxacan style of south tropical Mexico, and the Veracruzana style of Mexico's Gulf Coast. The restaurant's Black Swan Tequila Bar features 50 varieties of tequila and specializes in hand-crafted tequila cocktails. El Cisne also provides full catering service for parties, events, and meetings.
MEDIA CONTACTS:
Alexandra Salazar
McFadden/Gavender
O: (520) 882-6262
M: (520) 820-9948
alexandra(at)mcfaddengavender(dot)com
Barbara McFadden
McFadden/Gavender
O: (520) 882-6262
M: (520) 990-6040
barbara(at)mcfaddengavender(dot)com
Website:
ElCisneRestaurant.com