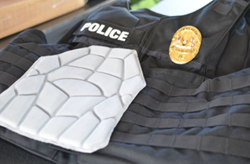 These types of tactical technology products are truly game-changing and instantly provide public safety agencies with new ways to keep their officers and the public safer
Brea, CA (PRWEB) May 04, 2016
T3 Motion, Inc. (OTC: TTTM), the global leader in the design and delivery of electric vehicles and tactical technology to the law enforcement, military, and security markets, unveiled their new line of T3 Motion Tactical Gear, including the revolutionary T3 TG-7 ballistic vest impact insert pads. The T3 TG-7 Pads are a proprietary, non-Newtonian fluid designed to reduce the soft-tissue impact of bullet strikes when used underneath a standard Kevlar Level IIIA bulletproof vest.
The Palm Bay Police Department, Sebastian Police Department, and Melbourne Police Department performed T3 TG-7 Ballistic Armor Protection Insert testing at the Police Firing Range in Palm Bay, FL using N.I.J. Standard 0101-06 for Back Force Signatures (BFS).
Four different caliber weapons (9mm Ball, 9mm Hollow Point, 10mm, 40 Cal, and 45 Cal) were fired at a Level IIIA ballistic vest from a distance of 6 feet/1.83 meters. Each caliber's ammunition was fired three times—the first for a "Vest only" reading, the second for "1 TG-7 pad," and the third and final time for "2 TG-7 pads". The TG-7 Insert(s) were placed between the Vest and the clay block (simulating the human body tissue), per NIJ testing standards.
The scale of BFS reduction ranged from 42-68% for a single T3 TG-7 pad to 58-96% for two T3 TG-7 pads.
"We are proud to offer a brand new range of T3 Motion tactical gear, including the T3 TG-7 Impact Pads, to the our customers that we have partnered with over the past decade," said Noel Cherowbrier, C.E.O. of T3 Motion, Inc. "These types of tactical technology products are truly game-changing and instantly provide public safety agencies with new ways to keep their officers and the public safer. In addition to the T3 TG-7 Pads, we now also offer IED Field Containment Devices, Tactical Breaching Energy Transfer Mediums, Body Cams, and fully-portable, self-contained ALPR systems. T3 Motion has long been about utilizing technology to make the world safer, and these products are right in line with our vision."
About T3 Motion, Inc.:
T3 Motion, Inc. (OTC: TTTM) was founded in 2006 in Costa Mesa, CA and has become the leader in clean energy, all-electric patrol vehicles for the Law Enforcement, Military, and Security markets. T3 Motion's revolutionary patented T3 Patroller was the first electric multi-shift vehicle designed for professional applications with interchangeable batteries. Deployed at airports, military facilities, retail centers, campuses, business districts, and other high-profile locations, the T3 Patroller has quickly become the choice of public safety agencies around the world. T3 Motion, Inc. now also offers customers the T3 Vision, a smaller all-electric patrol vehicle with interchangeable batteries ideal for interior patrols. For more information, visit http://www.t3motion.com, email sales(at)t3motion(dot)com, or call (714) 255-0200.
"Safe Harbor" Statement under the Private Securities Litigation Reform Act of 1995: Statements in this press release regarding T3 Motion's business, which are not historical facts, are "forward-looking statements" that are not guarantees of future performance. Such forward-looking statements are subject to risks and uncertainties that may cause actual results to differ materially from those anticipated by the forward-looking statements. These risks and uncertainties include, among others, factors associated with market conditions and the satisfaction of customary closing conditions related to the proposed public offering. For additional information concerning these and other factors that may cause actual results to differ from those contained in the forward-looking statements, see "Risk Factors" in the Company's Registration Statement filed on Form S-1, as amended, and in periodic reports the Company files from time to time with the Securities and Exchange Commission.