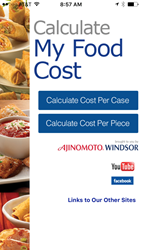 Ontario, California (PRWEB) May 04, 2016
Ajinomoto Windsor (AWI) is continuing the company's mission of not only providing foods that taste great and feels great, but also focusing on innovation ranging from the development of new gluten-free products to the success of the Food Cost Calculator app – the first of its kind.
Ajinomoto Windsor is excited to announce that the Food Cost Calculator, which is designed to help restaurant operators calculate food costs and other key profit-building functions, has reached 100,000 downloads between Apple's iTunes store and Android's Google Play.
Available to any restaurant operator, the Ajinomoto Windsor Food Cost Calculator enables users to input cost-per-case, unit of measure, pieces per case and other variables to calculate their real food cost and allows them to input menu prices for their desired food cost percentage. Additional features of the app enable users to e-mail, text, save or print the calculation. In 2015, the Ajinomoto Windsor Profit Calculator was featured on the History Channel in a segment called Newswatch, as one of the most innovative new App's in America. (link below).
http://newswatchtv.com/2015/03/26/windsorfoodcalculator-032615/
"One of the biggest keys to driving innovation is finding creative solutions to solving everyday problems. In this case, helping foodservice operators better manage their bottom line and overall food costs in a very handy and easy to use mobile format." said Brad Kumin, Ajinomoto Windsor's Vice President of Marketing for Foodservice.
Ajinomoto Windsor is going to continue the company's mission of delivering quality products while also helping restaurant operators succeed through advances in technology, like the Food Cost Calculator, as well as informational content. Blogs will soon be launching on the various brand websites with the goal of delivering articles designed to help restaurant operators.
For more information on Ajinomoto Windsor, Inc. please visit the company website: http://www.ajinomotowindsor.com
About Ajinomoto Windsor, Inc.:
Ajinomoto Windsor (AWI), previously Windsor Foods before being acquired by Ajinomoto, is a leading manufacturer of Asian/ethnic foods and appetizers. The company's passion for great tasting food and unparalleled customer service, combined with an environment of high integrity and open communication, will ensure growth for customers, employees, suppliers, and shareholders.
Contact:
Ajinomoto Windsor, Inc.
4200 East Concours Drive, #100
Ontario, CA 91764
1-800-548-6363
http://www.ajinomotowindsor.com