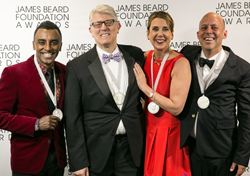 "I am honored to join this prestigious group of wine, food and beverage leaders," said Gina Gallo of her Who's Who induction.
MODESTO, Calif. (PRWEB) May 04, 2016
E. & J. Gallo Winery is proud to announce that Gina Gallo, Senior Director of Winemaking and Winemaker for Gallo Signature Series, is a 2016 inductee to the James Beard Foundation's Who's Who of Food & Beverage in America.
Since its inception, the prestigious Who's Who award has been given to 260 renowned culinary professionals who have made a significant and unique contribution to the American food and beverage industry.
"I am honored to join this prestigious group of wine, food and beverage leaders," said Gina Gallo of her Who's Who induction. "I accept this award on behalf of the Gallo family, as this honor also recognizes the contributions of all my family members who have worked tirelessly to make our family winery a success."
The Who's Who induction was celebrated at the annual James Beard Foundation Awards at Lyric Opera of Chicago on Monday, May 2, 2016. Other 2016 inductees are Jim Lahey, Baker and Proprietor of Sullivan St Bakery, New York City; Ed Levine, Author and Founder of Serious Eats, New York City; Temple Grandin, Author and Animal Rights Activist, Fort Collins, Colorado; and Marcus Samuelsson, Chef and Restaurateur, New York City.
"The James Beard Foundation is proud to add Gina Gallo to its distinguished class of Who's Who of Food & Beverage in America," said Susan Ungaro, president of the James Beard Foundation. "The lasting impact that Gina and the Gallo family have had on the wine and food business is a testament to their innovation and leadership, and Gina's energy and passion."
Gina is committed to philanthropy within her community, particularly in organizations that support her passion for healthy, nourishing food. Gina is a board member of both the American Farmland Trust, which works to preserve land for agriculture and farming, and Taste of the NFL, which raises funds and awareness for food banks and other anti-hunger initiatives across the United States.
The Who's Who induction is just one of many awards and accolades Gina has been honored with throughout her career. In 2008, Gina received an honorary Doctorate in Oenology from Johnson & Wales University in Providence, Rhode Island. Additionally, she is a member of the Confrérie des Chevaliers du Tastevin, an association that honors "courage, personal endeavor, scientific intelligence, the love of France and fulfilment of human values."
The James Beard Foundation's Who's Who of Food and Beverage in America is a group of the most accomplished food and beverage professionals in the country. Each has been recognized by his or her peers as displaying remarkable talent and achievement. Begun in 1984 by Cook's Magazine, the Who's Who has been administered by the James Beard Foundation since 1990. Each year, a ballot of 20 possible candidates is created and distributed to the entire Who's Who group for voting.
About E. & J. Gallo Winery
Founded by brothers Ernest and Julio Gallo in 1933 in Modesto, California, E. & J. Gallo Winery is the world's largest family-owned winery and the acclaimed producer of award-winning wines and spirits featured in more than 90 countries around the globe. A pioneer in the art of grape growing, winemaking, sustainable practices, marketing and worldwide distribution, Gallo crafts and imports wines and spirits to suit a diverse range of tastes and occasions, from everyday offerings to boutique, luxury bottlings.
The Gallo portfolio is comprised of more than 80 unique brands, including Barefoot Cellars, Dark Horse, and Gallo Family Vineyards, as well as premium box wines The Naked Grape and Vin Vault. Premium offerings include Apothic, Carnivor, Columbia Winery, Ecco Domani, Edna Valley Vineyard, Gallo Signature Series, J Vineyards & Winery, Louis M. Martini, MacMurray Estate Vineyards, Mirassou, Souverain, Talbott Vineyards, and William Hill Estate, along with highly acclaimed imports, such as Alamos, Brancaia, La Marca, Las Rocas, Martín Códax, Whitehaven, and LUX Wines, including Allegrini and Pieropan. Gallo Spirits offers New Amsterdam Vodka and Gin and E&J Brandy, in addition to imported Scotch whiskies from Whyte & Mackay, including The Dalmore, Jura Single Malt and John Barr Blended.
About The James Beard Foundation
Founded in 1986, the James Beard Foundation celebrates, nurtures, and honors America's diverse culinary heritage through programs that educate and inspire. A cookbook author and teacher with an encyclopedic knowledge about food, the late James Beard was a champion of American cuisine. He helped educate and mentor generations of professional chefs and food enthusiasts, instilling in them the value of wholesome, healthful, and delicious food. Today JBF continues in the same spirit by administering a number of diverse programs that include educational initiatives, food industry awards, scholarships for culinary students, publications, chef advocacy training, and thought leader convening. The Foundation also maintains the historic James Beard House in New York City's Greenwich Village as a "performance space" for visiting chefs. For more information, please visit http://www.jamesbeard.org.
©2016, Ernest & Julio Gallo Winery, Modesto, CA. All rights reserved.