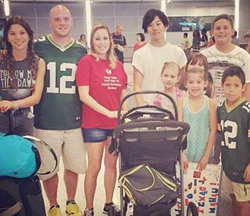 It's crazy how much you can love people you didn't know 10 months before. Every day [my host family members] make my exchange year super great.
San Francisco, CA (PRWEB) May 04, 2016
Ayusa International, a non-profit organization that has promoted global learning and leadership through high school student cultural exchanges for more than 35 years, is launching its annual search for families in Houston and the surrounding area interested in hosting international students for the 2016-2017 school year.
Ayusa host families who volunteer to open their home to exchange students contribute to the global community as public diplomats for greater international understanding. Each host family and student creates a lasting relationship that spans the cultural differences between their two nations.
The Bray Family from Houston has been hosting two students this year, Mahau from France and Genzo from Japan. Both students have been attending Mayde Creek High School this year. The Brays have six children of their own but feel that hosting exchange students is "probably one of the best decisions our family has ever made," according to host mom April Bray. "[The students] quickly become a part of your family and it's always a great feeling to see their eyes light up when they experience something for the first time or hear the excitement in their voices when they tell you about a new friend they made at school. Your children also get to gain another brother or sister and it's always fun to see them trying to learn your exchange student's language or customs. For us, there is no greater feeling than watching our exchange students succeed and grow and being able to share our culture and learn more about theirs."
The students have also been having a wonderful experience with the Bray family. Genzo shares, "My host family is so nice to me and I feel like this family is the home I can go back to. They make me feel like I'm loved by them. Of course you can share your culture and learn the language but more importantly, you can experience the other family that you love." His exchange "sister" Mahau says, "It's crazy how much you can love people you didn't know 10 months before. Every day they make my exchange year super great. I consider them like a member of my family. They are the reason why I enjoyed every single day of my new life."
Ayusa works with diverse families who are interested in hosting an international student of high school age. Families without children, empty nesters, military families, retirees, and single people are all welcome. Ayusa families come from all over the country and reside in rural, suburban and urban communities.
"Houston is a popular destination for Ayusa exchange students in the U.S.," says Heather Wells, Ayusa Regional Manager for the Southwest. "Host families love to share the diversity and history of Houston. It's such a fun area to live in, with activities and things for students to experience, from music and sports to outdoor activities and delicious Tex-Mex!" She continues, "If you have ever wanted to learn about a new culture while sharing life in America, I encourage you to give us a call or check out our website to learn more about how you can create an international friendship that lasts a lifetime!"
Host families provide the exchange student with three meals a day and a bedroom (private or shared). A professionally trained Ayusa representative supports each host family, student, and local school throughout the program year. Ayusa's exchange students are 15-18 years old and come from more than 60 countries around the world. Students are fully insured, bring their own spending money, and are proficient in English.
How to Host an International Student
Interested families can learn more about the program and available exchange students and request additional information by visiting http://www.ayusa.org or calling 1-888-552-9872.
The process to apply is simple. Families complete the online application, which includes questions about themselves and local high school, references, and a background check. The local Ayusa Community Representative conducts an in-home interview. They can also help each family with any questions they may have about the application or process.
After families are fully approved, they can select the Ayusa student they would like to host.
About Ayusa
Ayusa International (http://www.ayusa.org) is a 501(c)3 non-profit student exchange organization founded in 1981 and an official U.S. Department of State designated Exchange Visitor Program Sponsor. In addition, Ayusa administers high profile grant programs funded by the U.S. Department of State and other organizations. Ayusa is a sister company of Intrax, a family of organizations that provides a lifetime of high-quality educational, work and volunteer programs that connect people and cultures. Intrax is headquartered in San Francisco with offices on four continents.