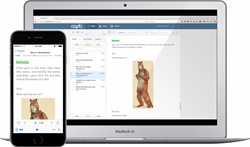 Capti offers a perfect solution making it easy to listen to eBooks online and across many devices, including Windows, Mac, iOS, and soon Android.
Stony Brook, NY (PRWEB) May 05, 2016
Capti Narrator now makes over 50,000 free Project Gutenberg eBooks universally accessible to anyone who needs or wants to listen to audiobooks instead of reading eBooks from the screen. It is perfect for busy professionals and retirees, auditory learners and people with print disabilities, English language learners and native speakers.
Project Gutenberg was the first provider of free electronic books, or eBooks, that were invented by Michael Hart in 1971. His memory continues to inspire the creation of eBooks and related technologies to this day. Project Gutenberg, where anyone is sure to find their favorite classics, now offers over 50,000 free eBooks for anyone to download and read.
"I corresponded with Michael Hart when we were just starting with Capti; he told me that he saw a great purpose in our mission of enabling everyone to listen to all they want to read" – said Dr. Yevgen Borodin, the CEO of Charmtech Labs LLC. "And, today, I am thrilled to finally deliver on my promise and make Project Gutenberg eBooks available as free audiobooks to everyone!"
With 20% of the World's population having reading difficulties due to some reading disability such as vision loss or dyslexia, and with a substantial part of the population not having the time to sit down and read a book, Capti offers a perfect solution making it easy to listen to eBooks online and across many devices, including Windows, Mac, Chromebook, iOS, and soon Android.
With Capti, one can add any eBook, document, or a webpage to a playlist – a personal audio book library, and then listen to them on the go or at leisure, switch between devices and continue from where one left off. While attractive for consumers, Capti is also being adopted by schools worldwide as a resource for language learning and for providing alternative formats for students with reading difficulties.
Capti makes it easy for teachers to create Playlists with textual materials and share them with their students, who can then read and/or listen to their reading assignments on any of their devices. Capti supports many popular file formats such as HTML, EPUB, PDF, and DOC that can be added to the Playlist from numerous sources, including the local computer, other iOS apps, Cloud storage services: Dropbox, Google Drive, and OneDrive; read-it-later lists: Instapaper and Pocket; and, now, also the Project Gutenberg eBook library.
"I am pleased that Capti will work to make our free eBooks easier to use in schools and colleges around the World, and I am also happy to see that Capti goes above and beyond to make sure the eBooks are universally accessible to people with and without print disabilities, as well as to those seeking to improve their literacy," said Dr. Greg Newby, the CEO of Project Gutenberg.
As a valuable universally accessible technology, Capti was distinguished with several prestigious awards, including the FCC Chairman's Award for Advancing Accessibility. For his work on Capti, Charmtech's CEO was named a 2015 MIT Technology Review Innovator Under 35.