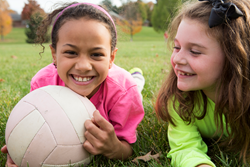 "It is a true testament to the creative ways our houseparents, teachers and staff are collaborating to enhance students' understanding of core social and emotional learning skills." -Deanna Slamans, MHS Social and Emotional Learning Curriculum Supervisor
HERSHEY, Pa. (PRWEB) May 04, 2016
Milton Hershey School® has been awarded a Promising Practice designation from Character.org for its home life curriculum, The Compass Project. MHS was among 326 other Promising Practice schools, districts and youth-serving organizations recognized across the country.
MHS designed a multifaceted home life curriculum called The Compass Project to build students' character and leadership skills inside and outside the classroom. Teachers, houseparents and staff promote values such as positivity, integrity, perseverance and global awareness through hands-on lessons and practical strategies.
"Milton Hershey School is honored to receive recognition for our character and leadership development program, The Compass Project," MHS Social and Emotional Learning Curriculum Supervisor Deanna Slamans said. "It is a true testament to the creative ways our houseparents, teachers and staff are collaborating to enhance students' understanding of core social and emotional learning skills."
Character.org selected programs and best practices that represent practical, effective ways to inspire empathy, conflict resolution and good citizenship among students. This year's winning national practices include anti-bullying programs, strategies for developing student leadership and community-building activities.
Milton Hershey School will be recognized as a 2016 Promising Practice recipient at the National Forum on Character Education in Washington, D.C. in October.
Learn more about the school's social and emotional learning program at mhskids.org.
# # #
ABOUT MILTON HERSHEY SCHOOL
Milton Hershey School® is one of the world's best private schools, offering a top-notch education and positive home life to children in pre-kindergarten through 12th grade from families of lower income at no charge.
ABOUT CHARACTER.ORG
Founded in 1993, Character.org, is a national nonprofit based in Washington, D.C. It works with schools and districts to educate, inspire and empower young people to be ethical and engaged citizens. It is led by education leaders who are dedicated to teaching youth how to be both smart and good through the advancement of quality character development in all schools. The impact of this is seen through improved academic achievement, decline in behavioral problems such as truancy and school violence, and an increase in an overall positive school climate.
ABOUT PROMISING PRACTICES
The Promising Practices program highlights what's working well in classrooms across America and the world. The program is simple in scope and recognizes many wonderful ideas from passionate teachers who are making a real difference in the lives of their students. Each Practice must be tied to one or more of Character.org's 11 Principles of Character Education.