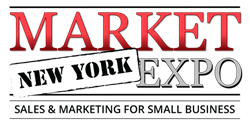 The Market New York Expo was created to help equip small business owners with the knowledge and strategy to increase their sales and growth in the digital age.
Queens, NY (PRWEB) May 04, 2016
The third annual Market New York Expo—a business-to-business trade show, conference, and networking event for small business owners and executives—will take place from 9 a.m. to 4 p.m. Wednesday, May 25 at Citi Field in Queens, N.Y. This year, the all-day marketing and sales event will be held in conjunction with the Queens Business Expo, which attracts thousands of entrepreneurs each year with more than 200 additional businesses on exhibit. The Market New York Expo was created to help equip small business owners with the knowledge and strategy to increase their sales and growth in the digital age.
"At Citi Field, we are making marketing education easily accessible to all five boroughs," said Event Management President Marc Sherer. "In addition, by partnering with the Queens Chamber of Commerce, we have the added value of hosting the event alongside the successful Queens Business Expo, increasing the number of small business owners, networking opportunities, and educational information available at the Market New York Expo."
The Market New York Expo offers budding entrepreneurs and small business owners access to high-profile professionals such as keynote Mario Rosser, client relationship manager at LinkedIn Sales Solutions, whose presentation will focus on using LinkedIn to build brands and gain a competitive edge, and Alex Hollywood, regional development director at Constant Contact, who will examine email marketing strategies that drive new business. Other featured speakers include executives from Google, YP Marketing Solutions, and New York Times best-selling authors.
In addition to six keynotes and more than 100 exhibitors, the Market New York Expo will feature insightful seminars presented by business and marketing experts on topics like "VEDC's Here's the Money®- Access Capital to Grow Your Small Business" and "How to Connect with Local Consumers in Today's Complex Digital Landscape."
The Market New York Expo is a spin-off event from the New York Business Expo and Conference (NYEXPO), the largest and most comprehensive business conference in the Northeast. Last year's NYEXPO, which took place at the Javits Center, drew more than 8,000 business owners and executives and more than 200 exhibitors and dozens of esteemed presenters. This year's Market New York Expo is presented by Co-Communications, Constant Contact, Infusionsoft, Powerteam International, and YP Marketing Solutions.
Pre-registration tickets can be reserved online and are recommended to ensure access to keynote presentations and seminars with limited seating; tickets will also be available at the door. Citi Field is easily accessible by NYC subway and Long Island Railroad; free unlimited parking is also available. For more event details and directions to the venue, visit http://www.marketnewyorkexpo.com or follow Market New York Expo on Facebook, Twitter and LinkedIn. To request booth space, please call 866-44-EVENT.
About Event Management: Event Management LLC is a Connecticut-based firm with over 25 years of experience in the production of major business shows and special events. Event Management produces trade shows throughout New England and New York. For additional information, visit http://www.EventManagement.org.