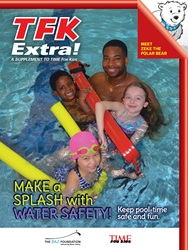 NEW YORK (PRWEB) May 05, 2016
TIME for Kids and The ZAC Foundation – a national leader in drowning prevention and swimming safety – today announced a new partnership to reach nearly 1 million children with important water safety messages before summer break begins.
Drowning can happen in an instant and is the leading cause of accidental death in children one to 6 years of age. TIME for Kids and The ZAC Foundation directed their new partnership at tackling this staggering statistic.
Teachers from coast to coast in 38,174 classrooms will receive a special edition of TKF Extra! on May 6, 2016, that will include important lessons on how to be safe in and around any body of water.
Both in the classroom and online, students and their families will learn essential water safety basics - the ABC and Ds of Water Safety – through engaging activities taught by the lively and colorful characters from The ZAC Foundation's children's book The Polar Bear Who Couldn't Wouldn't Swim.

A is for ADULT: Never let children be alone near a pool, ocean, lake, or river or assume that because a lifeguard is present, you can take your eyes off children.
B is for BARRIER: Have a four-sided fence with a self-locking, self-closing gate that goes around your pool.
C is for CLASSES: Everyone should learn how to swim. Classes like swimming and water safety for children, and CPR and First Aid are critical for families to learn.
D is for DRAIN SAFETY: Teach all swimmers to stay away from all pool and spa drains. If a drain cover is loose or missing, evacuate the pool immediately and do not return until a professional has fixed the drain cover.
"Drowning is 100 percent preventable if children, their families, and caregivers are armed with the essential tools to stay safe in all types of water – from pools to lakes to rivers and oceans. Our partnership with The ZAC Foundation allows us to take these skills, and provide them to our dedicated educators who reach some of the most vulnerable drowning populations," said Bob Schrumpf, director of national advertising sales & marketing for TIME for Kids. "We are honored to work with the Cohn family, who have dedicated their lives to safeguarding swimmers all year long."
Karen and Brian Cohn established The ZAC Foundation in 2008 after their six-year-old son Zachary drowned after his arm became trapped by the suction of the family's backyard pool drain. Since then, The ZAC Foundation has taught more than 10,000 children water safety essentials through their signature weeklong swimming program called ZAC Camp, accomplished in partnership with Boys & Girls Clubs of America.
"We never want another family to endure the loss we experienced after the passing of our sweet Zachary, and through our amazing partners like TIME for Kids, we are able to reach so many more children and families with lessons on how to stay safe in the water – especially before the summer begins. Our deepest gratitude lives with those at TIME for Kids and the thousands of teachers in classrooms around the country for sharing these lifesaving tools," said Karen Cohn, Zachary's mom, water safety advocate and co-founder of The ZAC Foundation.
To learn more about The ZAC Foundation and its work to advance water safety, visit http://www.TheZACFoundation.com.
# # #
About TIME for Kids
The 2015-2016 school year marks 20 years of TIME FOR KIDS bringing the world to students.
TIME FOR KIDS, a division of TIME, brings current events and authentic nonfiction writing to nearly 3 million students—and their teachers and parents weekly during the school year.
TIME FOR KIDS is recognized as an award-winning classroom learning magazine AND powerful teaching tool that encourages kids to learn more by reading more.
About The ZAC Foundation
The ZAC Foundation was established in 2008 by Brian and Karen Cohn after the loss of their 6-year-old son Zachary Archer Cohn in a pool drain entrapment in their backyard swimming pool. Through education and advocacy, the Foundation is dedicated to ensuring no other family endures the death of a child in a water-related tragedy. To learn more about The ZAC Foundation, connect with us on Facebook and thezacfoundation.com.
About The Polar Bear Who Couldn't, Wouldn't Swim
As seen on CNN, Fox News and over 50 network affiliates across the country, The Polar Bear Who Couldn't, Wouldn't Swim follows the journey of a young polar bear named Zeke who is afraid of the water and refuses to swim. He leaves his home in search of other animals that do not swim, and ends up finding that he can enjoy the water if he follows the ABC and Ds of water safety, while learning a valuable lesson about facing his fears with a positive attitude.