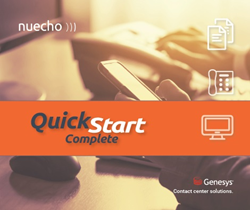 "We are excited to be able to help organisations grow and naturally scale their businesses with the best solutions the market has to offer." States Daniel Paradis, VP Business Development with Nu Echo.
Montreal, Quebec (PRWEB) May 05, 2016
Nu Echo, leading solutions provider and professional services organization specializing in enterprise level contact centers, today announced the launch of its new Genesys QuickStart deployment packages designed for the needs of small and medium sized enterprise.
Genesys, the global omnichannel customer experience and contact center leader, and Nu Echo have been partners for over four years. Together they have been offering the Canadian market an outstanding product paired with the highest quality and most flexible professional services. Nu Echo is an active member of the Genesys network, participating yearly in G-Force, showcasing more and more of its proprietary solutions on the Genesys AppFoundry and working tightly with Genesys sales for the successful deployment of enterprise level contact centers. The QuickStart packages are a natural extension to an already solid partnership.
"Genesys is excited about the launch of these new QuickStart Packages with Nu Echo. It will allow our companies to better service the growing Canadian SME market, providing top of the line Genesys contact center technology tailored for the small and medium sized businesses," stated Kevin Krempulec, VP & GM Canada, Genesys. "The deployments we have worked on with Nu Echo have always gone off flawlessly, and we look forward to working with them to promote these packages."
Flexibility, focus and knowledge are three words that clients use to describe Nu Echo's project management and solutions development. Working with some of the largest multinationals across Canada, Nu Echo works with tight deadlines to deliver complex projects. These new QuickStart packages are designed to give SMEs access to technology and services once reserved for the big players.
"We are excited to be able to help organisations grow and naturally scale their businesses with the best solutions the market has to offer," states Daniel Paradis, VP Business Development with Nu Echo. "The QuickStart packages also allow us to expand in a new market and grow our business; this is win-win for SMEs and Nu Echo."
The QuickStart packages are divided into three offerings: QuickStart Advantage, QuickStart Advantage+ and the QuickStart Complete. Companies will be able to quickly and easily see where they fit based on two primary selection criteria:
The number of agents they require (up to 100, up to 200 or up to 300)
The number of modules they would like to include (1, 2 or 3): Module 1 - Voice, Module 2 - WFM, Module 3 - GIR
Basic features included in every package are: virtual queues, skills, with a standard 30 day warranty and support (details apply). Nu Echo has tried to make these packages as comprehensive as possible while giving clear pricing guidance for professional services. Nu Echo will work with clients for the purchase of their Genesys licenses and maintenance. The transparency of the offers makes it easy for SMEs to budget and make the best business decisions.
QuickStart is just the beginning, since both Nu Echo and Genesys understand that no two businesses are the same. With a long list of additional options available, organisations can start with the QuickStart that suites them best and then customise the package with the options that differentiate their business. From the potential of IVR backend integration to agent desktop integration, from speech analytics to user identification to voice biometry to training, coaching and advanced support; Nu Echo and a QuickStart package will be tailored to each and every unique client.
For more details with regard to Nu Echo's Genesys QuickStart Packages please visit: http://www.nuecho.com/en/services/consulting/QuickStart or contact marketing(at)nuecho.com.
Nu Echo
Nu Echo is a technology development and consulting firm specialized in contact centers. From custom technology solutions development, to automated performance testing and speech recognition tuning, Nu Echo offers enterprise level clients leading professional services and technology solutions to take their contact center systems to new heights of performance. Visit Nu Echo at http://www.nuecho.com, Tel.: +1-514-861-3246, info@nuecho.com and follow us on social media: Facebook: http://www.facebook.com/nuechoinc, LinkedIn: http://www.linkedin.com/company/nu-echo, Twitter: twitter.com/nuecho.
Genesys
Genesys, creator of the world's #1 Customer Experience Platform, empowers organizations to build exceptional customer relationships with personalized, omnichannel experiences across all journeys in the customer lifecycle. For over 25 years we have put the customer at the center of all that we do. We passionately believe that great customer experience drives great business outcomes. Trusted by over 4,700 customers in 120 countries, Genesys orchestrates over 24 billion interactions per year in the cloud and on premises. For more information http://www.genesys.com. Connect with Genesys via Twitter, Facebook, YouTube, LinkedIn, and the Genesys blog.
Media/Press Contact:
Chelsea D'Angelo & Alexis Malure, Group SJR for Genesys
Tel: 1-917-934-3914, genesyspr(at)groupsjr.com
S.Quinn, Director Marketing, Nu Echo
Tel.: 1-514-861-3246 x. 4256, Cell.: 1-438-397-4438, stephanie.quinn(at)nuecho.com, squinn(at)m.nuecho.com
-30-