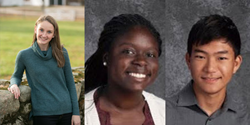 One of the strengths that drew me to LCA was its stellar arts program.
Lexington, MA (PRWEB) May 06, 2016
On Saturday, March 12th, the talents of over 500 of Massachusetts' brightest young musicians were on full display at Symphony Hall in Boston. Among the performers were three Lexington Christian Academy students: Bryn Gough '16 (soprano), Mariam Pitan '17 (alto), and Steven Ahn '17 (violin). The students earned their places in this prestigious festival after competing in January with thousands of auditionees across the state.
"One of the strengths that drew me to LCA was its stellar arts program. The visual and performing arts have been a school strength for some time," said Tim Russell, Head of School. "Bryn, Mariam, and Steven represent a high caliber of vocal and instrumental ability. To hear them reminds me of a quote: Music, when soft voices die, vibrates in the memory."
The three LCA students relished in the honor of performing at the distinguished event. "Having the opportunity to learn and perform music among the best singers in the state was almost surreal," noted Pitan. "During rehearsals, there was an atmosphere of excitement and camaraderie that bonded all the singers together." Ahn added that, "I have played in over ten different orchestras in my career, but this one was extremely special. I not only learned to play more music, but to also appreciate it. Music is a means of expressing myself without words."
The annual All-State Conference and Festival—offered through the Massachusetts Musical Educators Association—features 120 interactive sessions, including workshops, concerts, and networking opportunities.
Lexington Christian Academy is an independent college preparatory school that exists to educate young men and women in the arts and sciences in the context of a complete commitment to the gospel of Jesus Christ.