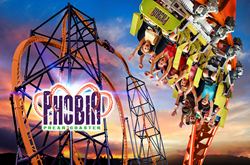 We are very excited to introduce Phobia to our thrill seeking guests in celebration of our 170th Season. Phobia takes our thrill level as an amusement park up a notch and we know that our very brave guests will enjoy it! - Sara Frias, Marketing Director
Bristol/Southington, CT (PRWEB) May 04, 2016
Lake Compounce and its much anticipated new rollercoaster Phobia Phear Coaster are opening at 11am on Saturday, May 7th.
12 terrified riders have been chosen through an online contest to be the first to experience Phobia Phear Coaster on the park's opening day at park opening immediately following a ribbon cutting to celebrate the new attraction. The Phobias of these 12 lucky riders span from clowns, butterflies, chainsaws, to of course rollercoasters. The general public is encouraged to attend this event on May 7th to watch the 12 brave riders and to then ride Phobia themselves.
Guests who are not 2016 Season Pass Holders yet can purchase Buy 1 Get 1 Free Regular Admission tickets on the park's website that can be used on opening day http://bit.ly/1QCRVb1.
Phobia features an inversion at 150 feet in the air—one of the highest in existence and the tallest in the Northeast. Guests will experience speeds of 65 mile per hour with many exciting and unique elements including multiple launches, a twisting heart-line Inversion, and ascending and descending twists.
About Lake Compounce
Lake Compounce, part of the Palace Entertainment family of parks and New England's premier family theme park opens May 7th for the 2016 season. Celebrating its 170th season, Lake Compounce is the oldest continuously operating amusement park in North America. Summer Season Passes are currently on sale for the 2016 season starting at $55. More information and the park's operating schedule can be found at lakecompounce.com.
About Palace Entertainment
Palace Entertainment is one of the leading leisure park operators in the United States. With parks located in 10 states, Palace Entertainment continues its expansion of brands within the family entertainment sector. The company operates Kennywood amusement park in Pennsylvania, Noah's Ark water park in Wisconsin, Splish Splash water park in New York, and Raging Waters in California, among many other family favorite destinations. Palace Entertainment's parks provide family oriented and affordable attractions to visitors of all ages, offering a wide range of attractions, such as roller coasters, Ferris wheels, live shows, variable depth pools, water slides, animal shows, miniature golf courses and arcade games. Palace Entertainment greets millions of visitors annually.