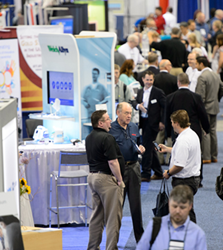 Come visit us at booth 500 and learn about the 'SonoDepot Way.' -Floyd McAuliffe, Founder & President
St. Cloud, Florida (PRWEB) May 06, 2016
This June 3-6, SonoDepot will host booth 500 at the AAMI 2016 Expo in Tampa, Florida. As an exclusive sales and service provider of the ALPINION line, reps will educate attendees about the latest in economical, cutting-edge ultrasound technology.
AAMI 2016 is the premier conference for healthcare technology management. The event draws more than 2,200 biomedical equipment technicians, clinical engineers, and others who manage or support medical devices for healthcare institutions. Educational sessions focus on practical solutions for the challenges that attendees face in their work every day. The Expo provides an opportunity to see the latest technologies from many of the world's leading medical-equipment manufacturers and service providers.
About SonoDepot
Floyd McAuliffe, Founder and President along with his brother Jack McAuliffe, CEO, are the owners of SonoDepot and trailblazers of OEM-Independent Ultrasound Support providing superior service to healthcare providers in the U.S. since 1985. SonoDepot, based in Central Florida, is an exclusive sales and service provider for the revolutionary Alpinion Ultrasound product line featuring the E-CUBE series. The company also proudly repairs, services and sells the industry's most respected brands including GE, Philips, HP, and Siemens. SonoDepot's services include ultrasound repair, transducer repair, probe evaluation and maintenance. They are retailers of both new and refurbished ultrasound systems. With a rapid 15-30 minute response time and 24/7 nationwide service, SonoDepot is keenly focused on customer service. 90% of SonoDepot's ultrasound repair clients are repeat customers who refer colleagues.