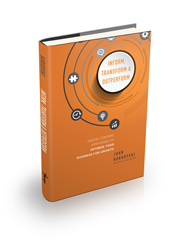 "This digital foundation is the starting point and today is an inflection point for all. Embrace the revolution -- learn, build, innovate and prosper or wither in this new economy and world. Time is short. The choice is yours," said Rick McNabb, Optimity
New York, NY (PRWEB) May 05, 2016
Understanding how companies must evolve to successfully compete in today's digital world just got a lot easier, thanks to a new book Inform, Transform & Outperform: Digital Content Strategies to Optimize Your Business for Growth. Authored by Optimity Advisors' Information Management Partner John Horodyski and his team of experts, the book provides actionable steps to lead a company through this needed transformation. The book will be unveiled tonight (May 5, 2016) in conjunction with the 2016 Henry Stewart DAM NY conference, where Horodyski and his team will be presenting on topics within the book. It will be available for purchase to the public on all major online retailors, including Amazon.com and Barnesandnoble.com, starting May 20, 2016.
"This digital foundation is the starting point and today is an inflection point for all. Embrace the revolution -- learn, build, innovate and prosper or wither in this new economy and world. Time is short. The choice is yours," said Rick McNabb, Chief Executive Officer of Optimity Advisors.
Nearly every facet of modern work is influenced by digital systems, so it is more important than ever to fortify a company's digital foundation. But what exactly is this transformation, what does it impact upon, and, as importantly, how is it done? Inform, Transform & Outperform: Digital Content Strategies to Optimize Your Business for Growth provides compelling, collective insight into building a tactical foundation to achieve a holistic digital strategy.
Readers will learn to:

Develop strong metadata and taxonomy for robust search capabilities and organize data as a foundation for transitioning business
Optimize digital content workflows in the new collaborative network
Create the business case for change and changing the way that people interact with the new digital infrastructure to deliver real business benefits on an ongoing basis
To learn more about the book, the authors or request a media interview, visit http://www.optimityadvisors.com
About the Book:
Title: Inform, Transform & Outperform: Digital Content Strategies to Optimize Your Business for Growth
Author: John Horodyski, Optimity Advisors
Expert Contributors: Chad Beer, Holly Boerner, Meredith Brown, Mindy Carner, Jesse Celso, Jeremy Collins, Rod Collins, Gareth Harper, Dan Havas, Veronica Hsieh, Robert Moss, Gretchen Nadasky, Reid Rousseau, Madi Solomon, Nick Thorpe and Rory Tierney
ISBN: 978-1599327556
Publication Date: The book will be available for purchase at all major online retailers, including Amazon.com and BarnesandNoble.com, starting May 20, 2016.
About Optimity Advisors
Optimity Advisors is a specialized advisory firm that combines deep industry expertise and integrated solutions to help companies enhance stakeholder value, improve operations, and address performance and risk related challenges. Optimity is comprised of professional advisors around the globe with deep domain expertise in strategy, innovation, information management, business and digital transformation. Optimity drives business solutions through creative design, advanced analytics and analysis, and technology enablement. We help clients digitally transform their business to monetize data and intellectual property, automate operations through intelligent processing and cognitive technology, optimize customer interactions, accelerate revenue realization through digital product and services launches, and design innovative business models for rapidly changing markets. Learn more at http://www.OptimityAdvisors.com.