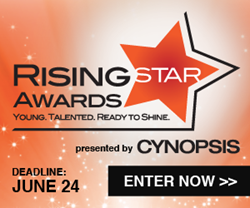 New York, NY (PRWEB) May 05, 2016
Cynopsis Media announced the launch of the second Annual Rising Star Awards, honoring young professionals with the smarts, maturity, and composure that give them the potential to be one of the next generation's leaders. Cynopsis is now accepting entries through June 24. Honorees will be celebrated at a special awards reception in September, 2016 in New York City.
"The energy and enthusiasm of the newest crop of young media leaders is something to admire," says Roberta Caploe, Cynopsis Publisher. "And nowhere is that on display more than at the Rising Star Awards. To be named among the industry's up and coming, this is the awards program to participate in."
Presented by Cynopsis Media, one of the industry's most trusted brands, the awards are open to professionals aged 30 and under, spanning across all aspects of the business including distribution, ad, sales, marketing, PR, technology, finance, legal production and more. (Enter Online Now)
Honorees will be celebrated at an Awards Reception in September, 2016 in NYC and profiled in a special edition of Cynopsis. For entry questions, contact Marketing Manager Sarah Martinez at sarah(at)cynopsis(dot)com. For advertising or sponsorship information, contact VP of Sales & Marketing Mike Farina at mike(at)cynopsis(dot)com.
About Cynopsis Media:
Cynopsis Media is what the TV industry reads first every day. The Cynopsis family of products includes the media industry's most-read daily, Cynopsis, plus sister dailies Cynopsis Digital and Cynopsis Sports, the Cynopsis Jobs board and special reports. Serving TV, agency and brand professionals, Cynopsis Media produces conferences, webinars, and awards programs that are second to none. Find out more at cynopsis.com.
##