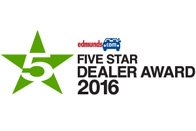 Thank you to our management team and sales staff for the great experience you provide for our customers
(PRWEB) May 06, 2016
Bay Ridge Chrysler Jeep Dodge Ram has recently been awarded with a very distinct honor for the second consecutive year. The dealership located on 5th ave in Brooklyn, is a proud recipient of the prestigious 2016 Edmunds 5 Star Dealer Award.
Edmunds.com, the premier destination for car shopping, has recognized Bay Ridge Chrysler Jeep Dodge Ram because they earned the highest marks for the customer satisfaction in Edmunds.com's Dealer Ratings and Reviews.
Bay Ridge Chrysler Jeep Dodge is a company built on pride, passion, achievement, respect, responsibility, family, discipline and courage. Bay Ridge Chrysler Jeep Dodge Ram believes that its continued success and future growth depend on building trusting with its employees, industry partners and it's customers. Receiving this distinctive award is a milestone that will both honor their achievements and strengthen their determination to provide the highest level of customer satisfaction to each and every customer.
Bay Ridge Chrysler Jeep Dodge Ram was among a select group of eligible dealers to earn this distinction, To be eligible for the Five Star Dealer Award, the Dealer Partner must have earned an average customer review rating of five stars on Edmunds.com with a minimum of 20 reviews during the previous two years as of December 31, 2015. This is a huge achievement in an otherwise cut throat business.
According to Chris Erato, General Manager of Bay Ridge Chrysler Jeep Dodge Ram, "We are honored to be among a select group of dealers. It is a great achievement and we will keep working hard to make sure that every customer walks out with not only a great car at the best price, but with the feeling that they had a great experience. Our goal is to have customers enjoy the best possible shopping and ownership experience, so that they want to come back time and time again. Thank you to our management team and sales staff for the great experience you provide for our customers"