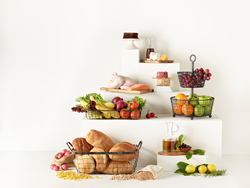 As a leader in Mediterranean, Zoës Kitchen is committed to elevating awareness of the well-rounded Mediterranean lifestyle
Plano, Texas (PRWEB) May 05, 2016
Zoës Kitchen (NYSE: ZOES), a high growth, fast casual Mediterranean restaurant group, celebrates Mediterranean Diet Month with four weeks of giving and inspiration designed to highlight the benefits of the Mediterranean diet.
International Mediterranean Diet Month was founded in 2009 by Oldways and the Mediterranean Foods Alliance, in an effort to highlight the foods and health benefits associated with the diet. As a leader in Mediterranean, Zoës Kitchen is committed to elevating awareness of the well-rounded Mediterranean lifestyle; appropriately, the Greek word for diet (δίαιτα), translates to "way of life".
In addition to feeling great, studies on the Mediterranean diet report compelling functional benefits including reduced rates of cardiovascular disease, cancer, and high blood pressure. The diet has also shown to increase longevity of life and be a successful strategy for healthy weight loss. Zoës' month-long celebration will promote connecting with friends, staying active, and enjoying simple ingredients that fuel a healthy life. Ultimately, the company hopes to encourage guests to feel their best by making more choices that reflect Mediterranean living.
To launch the celebration, Zoës Kitchen is hosting a "Zoës for a Year" giveaway on Facebook. Additional inspired gifts and ideas, including a Mediterranean tip of the week, will be shared on the Zoës Kitchen Facebook and Twitter pages throughout the month of May.
"At Zoës, we believe there is an opportunity to change the way Americans eat and live by sharing the essence of Living Mediterranean," said Kevin Miles, Zoës Kitchen President and Chief Executive Officer. "We offer guests convenient access to eating Mediterranean, a key element of the lifestyle. They're able to eat what they love and love how they feel."
The Zoës Kitchen menu is inspired by the Mediterranean food philosophy, which emphasizes abundance versus restriction. Recipes are made from scratch, using fresh produce, whole grains, nutrient-rich legumes, and lean proteins. Signature dishes include the Live Med Salad, Chicken Kabobs, Hummus Trio, and Piadinas. A variety of gluten-free, vegetarian and vegan options are also available. Whether guests choose to dine in, takeout, or cater a business or social occasion, Zoës Kitchen offers a chance to experience the benefits of Living Mediterranean, all with the convenience of fast casual.
About Zoës Kitchen
Founded in 1995, Zoës Kitchen is a fast casual restaurant group serving made-from-scratch, Mediterranean-inspired dishes delivered with Southern hospitality. With 180 locations in 19 states across the United States, Zoës Kitchen delivers goodness to its guests by sharing simple, tasty and fresh Mediterranean meals that inspire guests to lead a balanced lifestyle and feel their best from the inside out. For more information, please visit zoeskitchen.com, Facebook, Twitter, Instagram, pinterest.com/zoeskitchen, or follow #livemediterranean.