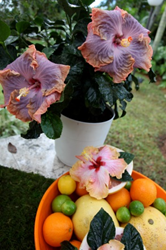 Whether indoors or outdoors, brightening a space with plants improves your quality of life.
Miami, Fl (PRWEB) May 10, 2016
Spring is the best time to appreciate beautiful flowers and stunning greenery. And what better way to start than by planting a garden and digging in the dirt?
"Whether indoors or outdoors, brightening a space with plants improves your quality of life," says Justin Hancock, garden expert at Costa Farms. "Just being around plants reduces stress and helps you to feel relaxed. Simply add a container of colorful flowers to your porch or spruce up a home office with year-round houseplants."
In addition to making homes and landscapes look attractive, gardening relieves stress, improves health and is associated with mental clarity. Plants really don't need much, just a little attention along with some sunshine and water.
Start growing with these five easy tips from Hancock.
1. Try succulents. Plants that thrive with little to no care are perfect for beginner gardeners. The Desert Escape Collection from Costa Farms features low-maintenance, high-impact cacti and succulents. Choose flashy desert rose with striking red, pink or white flowers; low-growing echeverias and aloes; or upright cacti for an easy and beautiful look. These plants store water, making them extremely drought-tolerant.
2. Get instant impact. Add annual flowers to beds, borders and containers for a look that effortlessly wows. These beauties are simple to grow and come in an almost unlimited selection of colors, shapes and sizes. Warm-weather annuals such as angelonia, vinca, and pentas are great additions that will hold up through the summer.
3. Improve the air. Houseplants such as those from Costa Farms' O2 For You collection, including peace lilies, Boston ferns and red aglaonemas, clean the air every minute of the day. Studies from the US Environmental Protection Agency (USEPA) have found that levels of indoor air pollution can be two to five times higher — and in some cases 10 times — more polluted than outdoor air. Plants absorb up to 87 percent of volatile organic compounds (VOCs) that hide in ordinary household products such as paints, carpets and ink.
4. Make it easy with perennials. Unlike annuals that need to be planted each year, perennials such as hosta and coneflower live for years and get bigger and better with age. Plant them once, and they'll bloom for seasons to come. They vary in size, texture, color, blooming season and foliage. Plus, many perennials attract much-needed pollinators like birds, bees and butterflies to the garden.
5. Add tropical flair. Choose show-stopping hibiscus and mandevillas for outdoor décor. These tropicals are among the easiest to grow and best for adding flair to decks, patios, balconies and other outdoor spaces. Both love hot, sunny spots in containers or in the ground.
About Costa Farms
Costa Farms is the largest producer of ornamental plants in the world. Founded in 1961 by Jose Costa, Costa Farms is a third-generation, family-owned business that globally stretches over 3,500 acres and employs 4,000 people. Along with thriving indoor and bedding plant divisions, Costa Farms operates merchandising and young-plant production divisions as part of its infrastructure, with operations domestically in South Florida and North and South Carolina, and abroad in the Dominican Republic and Far East.