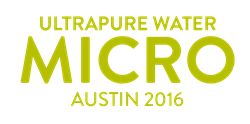 AUSTIN, Texas (PRWEB) May 05, 2016
The preliminary program for the 19th annual UPW Micro conference is now posted online. Due to the success of the second track in 2015, this year's event will again feature an expanded agenda, covering both UPW production and facility water management. Ultrapure Water Micro brings together the semiconductor manufacturing industry's leading high purity-water production, facility management, wastewater treatment and reuse experts for a day and a half of technical engagement on breakthroughs and updates in the field. The agenda can be viewed here and you can register here. The event is at the Omni Southpark in Austin, TX, June 7-8, 2016. There will be a Young Professional & STEM Student Networking Reception on Monday, June 6 at 5 pm.
This year's attendees will have the opportunity to listen to engaging keynote speakers, hear presentations from leaders in the field, and sit at stimulating roundtables sessions lead by system and process innovators. Greg Meszaros, Director of Austin Water, will open the conference up on Day 1 discussing the utility side of supplying water to a fab, and on Day 2, Mark Thirsk, Managing Partner at Linx Consulting, will update the conference with forward looking insights on semiconductor industry trends. Both tracks and the roundtables are full of equally impressive speakers and roundtable hosts for UPW Micro 2016.
The technical program for UPW Micro 2016 spans issues and applications across the whole facility. The UPW Track is co-moderated by Slava Libman, Air Liquide, Dan Wilcox, Samsung Austin Semiconductor, and Bernie Zerfas, GlobalFoundries. This track will feature sessions on the following: Technology Needs; Particles Control; Innovation in UPW Metrology; and Innovations and Continuous Improvement. The Water Management Track is co-moderated by Alan Knapp, Evoqua Water Technologies, Season Hill, Samsung Austin Semiconductor, and John Morgan, H2Morgan. This track will feature sessions on the following: Water Management; Waste Treatment Application and Monitoring; and Cu Treatment and Cooling Water Management.
With co-moderation, presentations, and roundtables hosted by engineers from more than 7 semiconductor manufacturing companies, UPW Micro 2016 will focus on what challenges endusers confront at fabs, how they are dealing with these issues, and what they need from suppliers to increase efficiency and maximize uptime.
UPW Micro 2016 will start off on the evening of Monday 6th with a Young Professionals and STEM students networking reception. Young Professionals from Samsung Austin Semiconductor and Lanxess will be present to have an informal discussion about their experience entering the semiconductor manufacturing business through water management and try to address the lack of information available to young people and graduating students. After short and informal presentations, representatives from these organizations will be available to answer questions and for casual conversation. There will be a live band playing after the presentation, and both alcoholic and non-alcoholic drinks will be provided.
UPW Micro 2016 is co-located with UPW Pharma 2016 for the first time. UPW Pharma 2016 will have technical presentations, workshops and roundtables concurrently with UPW Micro and delegates will be able to attend both events at a heavily discounted rate. The meals, networking events and exhibits are in common areas will see companies and individuals with cross-focuses.
Conference delegates will also be able to meet with key players and suppliers of equipment and solutions in microelectronics water and wastewater treatment products and services in the exhibition areas, which are expanded in 2016. Sponsoring companies include Samsung Austin Semiconductor, Evoqua Water Technologies, Harrington Industrial Plastics, 3M, Aquafine, Asahi/America, Gemu, Heraeus, Meco, Nalco, Ovivo, Watts Water Technologies, and exhibiting companies include Balazs Nano Analysis, B&D Plastic, BWT Pharma & Biotech, Chemtrace, Chemwest, Elemental Scientific, GE Power & Water, Georg Fischer, Heateflex, Itochu, KanomaxFMT, Kurita, Levitronix, Lighthouse Worldwide Solutions, Mettler Toledo Thornton, Mycometer, Neotech Aqua Solutions, Organo, Osti, Pacific Ozone, Particle Measuring Systems, Plast-O-Matic Valves, Prince Rubber & Plastics, Suez, Swan Analytical Instruments, and Ultrapure.
For conference registration, click here. For questions about the conference, contact Yana Nazarova at yana.nazarova(at)globalwaterintel.com or +1 512 879 4208 and for sponsorship opportunities, contact Mary Rose Watts at maryrose.watts(at)globlwaterintel.com or +1 512 364 0542. For information about http://www.ultrapurewater.com and for inquiries and submissions of technical material for publication, contact Mike Henley, mike(at)ultrapurewater.com or +1 303 745 3980.