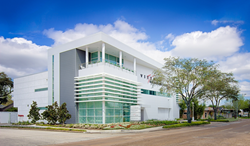 Houston, TX (PRWEB) May 05, 2016
Vitenas Cosmetic Surgery has been named as one of the eight recipients of the 2015 AIA/AAH Healthcare Design Awards, presented by the American Institute of Architects and the Academy of Architecture for Health. The building, brainchild of founder Paul Vitenas, M.D., F.A.C.S., and designed by the renowned Perkins+Will and Harrell Architects, opened to patients in October of 2014.
The prestigious Healthcare Design Awards are given out annually by the American Institute of Architects (AIA). Founded in 1875, the AIA advocates for improvements in economic vitality through the construction of sustainable buildings. Partnering with its more than 300 state and local chapters, the AIA presents awards for those buildings that move above and beyond the baseline criteria for innovative construction projects. The 2015 winners were selected from four categories: Built for Over 25 million, Built for Under 25 million, Unbuilt and Innovations in Planning and Design Research.
Winning in the Built for Under 25 Million category, Vitenas Cosmetic Surgery was a redeveloped site that once held a dilapidated office building, demolished for the new construction. Dr. Vitenas, a Board Certified cosmetic surgeon, created the 19,000 square foot building with a smooth aesthetic to compliment the local urban landscape. The office brings a dynamic curb appeal to the adjacent, affluent neighborhood of Afton Oaks.
Vitenas Cosmetic Surgery's three-story building is clad in white metal panels, corrugated zinc, and white plaster. The facility is a mix of architectural details and comfortable utility, which clearly emulates Dr. Vitenas' personal sense of classical styling and affinity for quality. A two story 'jewel box' window wall compliments the interior's sleek design and crisp, light elements.
Custom wall panels, drapery, and flooring details, all done in an elegant palette that immediately puts patients at ease. The ground level holds Mirror Mirror Beauty Boutique, Dr. Vitenas' noninvasive MediSpa, and provides the first checkin point for patients. An elevator ride to the second floor brings houses a chic reception area, treatment rooms, and dual surgical suites. A scenic family waiting area is located on the top floor of the building, overlooking the city of Houston.
The architectural accomplishments of Vitenas Cosmetic Surgery's new building are evident with the 2015 Healthcare Design Award. The AIA jury elaborates, "This design is meticulously tailored to its clientele to create an elegant and comfortable hospitality setting well-suited for this niche healthcare typology. As a boutique surgery center, the design takes the patient experience to a very high level."
The medical office and accredited surgery center, located at 4208 Richmond Avenue, was a collaboration between Dr. Vitenas, Perkins+Will Architects and Harrell Architects. Perkins+Will is an interdisciplinary research based architecture and design firm, established in 1935. The firm is ranked as one of the top global design firms, with a significant focus on social responsibility. Harrell Architects' work is centered around healthcare and commercial construction. They are known for bringing functional medical spaces that promote the health and well-being of patients.
For more information on the 2015 AIA/AAH Healthcare Design Awards, see the Journal of the American Institute of Architects. Vitenas Cosmetic Surgery is located between Bellaire and River Oaks, immediately off of the Southwest Freeway. Contact the office at 281.484.0088 to find out more about the procedures offered, or to schedule a complimentary consultation with Dr. Vitenas.
Contact:
Dr. Paul Vitenas
4208 Richmond Avenue, Suite 200
Houston, Texas 77027
http://www.drvitenas.com