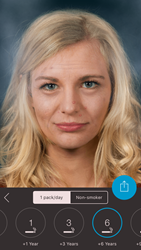 "Teens do not care about lung cancer as much as they care about selfies.", says Titus J. Brinker, founder and secretary of Education Against Tobacco.
Boston, MA (PRWEB) May 06, 2016
Most smokers start in early adolescence with the idea that smoking is glamorous; the problems related to lung cancer and heart disease are too far in the future to fathom.
A free app, launched by a medical student from the charity "Education Against Tobacco" takes advantage of adolescents´ interest in appearance and their urge to take selfies with their smartphones.
After downloading the Smokerface app, the user can take a selfie which the app then transforms into a future smoker based on scientific data. The user's own face is displayed in 3D as it could look in 1-15 years, showing how smoking speeds up the aging process.
Titus Brinker, medical student and initiator of the anti-smoking campaign explains that the app isn't there to frighten young people but to inform them. He continues saying that compared to other methods, Smokerface touches a raw nerve with adolescents as it shows them on their own face that smoking doesn't just make you ill; it can also make you unattractive.
Looking good, says Brinker, is hugely important for the age group of 10 – 15 year olds. The app therefore should shock young people more than the explanations about health consequences. "It shows something that teenagers can more easily relate to", he adds.
In this new version of the app the selfie appears in 3D and reacts to touch. It was released this week and is available for iOS and Android. The app is free.
Harvard Professor Nancy Rigotti, Director of the Tobacco Research and Treatment Unit at Massachusetts General Hospital, commented on the new app: "The Smokerface app is a novel and creative strategy that might help to prevent adolescents from starting to smoke. It deserves to be carefully evaluated. The field of tobacco control is in need of new and better ways to keep youths from becoming addicted to nicotine and this idea could be one of them."