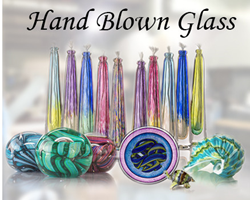 "The glass keepsake candle made with some cremation ash is a beautiful way to combine a keepsake for ashes with a candle lighting. I would have loved something like this for myself."
Saint Paul, MN (PRWEB) May 11, 2016
OneWorld Memorials, the innovative leader of cremation urns and memorial gifts announces a sensational line of custom, hand blown glass art as the newest addition to their cremation keepsakes.
These true glass remembrances are made with the ash of a loved one and hand-crafted into meaningful, personalized, treasures.
What makes these stunning works of glass-art so uncommon is that a small amount of cremation ash is folded into the glass making the keepsake a lasting memorial capturing both beauty and emotion.
There has been a growing demand in personalized keepsakes for ashes. Recognizing the trend, OneWorld Memorials has partnered with one of the premier glass artists in the country to help satisfy its customers' requests.
"Although the purchase of a cremation urn is important for our customers, we've discovered they have a passionate interest in creating personalized memorials that embody some of the cremation ash as well," says Ira Woods, President of OneWorld Memorials.
One keepsake design is an oil candle; a multi colored glass flute that holds oil and a wick for burning. "After the passing of my spouse, Kris, it was comforting to light a candle each night by her photo, even though I'm not really someone into rituals outside of making coffee each morning," says Woods, who started OneWorld Memorials as part of his own healing process. "The glass keepsake candle made with some cremation ash is a beautiful way to combine a keepsake for ashes with a candle lighting. I would have loved something like this for myself."
In addition to the oil candles, other keepsake styles include paper weights, glass hearts and brilliant glass spheres.
Ordering is simple and streamlined:

The customer chooses the design and colors on the OneWorld Memorials website.
A kit is sent to the customer to collect a nominal amount of cremation ash.
The kit is sent back to the artist in a pre-addressed packet.
In approximately 4 weeks the artwork, with embedded ash, is sent to the customer.
"What makes this product line so unique is that it gives people the opportunity to grieve their loss by tapping into their creativity," explains Woods, adding, "What could be more meaningful than having a hand in designing a unique, customized tribute to the memory of your loved one?"
About OneWorld Memorials
OneWorld Memorials provides quality cremation urns, and related memorial products, along with free shipping. OneWorld Memorials offers cremation jewelry, biodegradable urns, condolence gifts, and more. To learn more, visit http://www.oneworldmemorials.com.