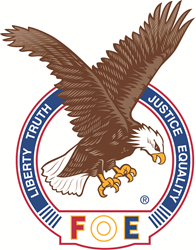 The great things of the world that have been achieved by mothers' love and devotion.
Los Angeles, CA (PRWEB) May 04, 2016
"All that I am, or hope to be, I owe to my angel mother." – Abraham Lincoln
Leave it to the great American philosopher Abraham Lincoln to sum up the role of mothers in our development so simply.
It was with this sentiment in mind that Fraternal Order of Eagles leader Frank E. Hering made the suggestion to set aside a national day to celebrate mothers. As the second Sunday in May approaches again, the Fraternal Order of Eagles reminds Americans to honor the women who prepare us for life.
Here's a look at how some notable Americans viewed their mothers:
"I remember my mother's prayers and they have always followed me. They have clung to me all my life." - Lincoln
"My mother had a slender, small body, but a large heart - a heart so large that everybody's joys found welcome in it, and hospitable accommodation." - Mark Twain
"My mother … had a very deep inner spirituality that allowed her to rebuild her life. It's extraordinary that she had such a strong sense of self and such a commitment to the future and such a strong creative sense that she could build new worlds for herself and for us out of the total devastation in her life." – Caroline Kennedy
"When you are a mother, you are never really alone in your thoughts. A mother always has to think twice, once for herself and once for her child." - Sophia Loren
"Motherhood has a very humanizing effect. Everything gets reduced to essentials." - Meryl Streep
"She raised us with humor, and she raised us to understand that not everything was going to be great - but how to laugh through it." - Liza Minnelli (on mom Judy Garland)
Why is Mother's Day important to the Order? It was F.O.E. Past Grand Worthy President Hering who first made the public plea to institute a national holiday honoring mothers in 1904. A decade later President Woodrow E. Wilson signed a proclamation into law making the second Sunday of May a holiday.
Hering was inspired to call for the holiday while on the faculty at the University of Notre Dame where he played quarterback and eventually became the athletic director, establishing the basketball team and coaching the football and baseball teams. His eureka! moment came when he learned a professor at the school took class time each month for students to scribble a postcard home.
Hering, the so-called Father of Mother's Day, spread his idea to the individual Aeries and Auxiliaries around the country during his terms as Grand Worthy President in 1909 and 1911, urging them to honor "the great things of the world that have been achieved by mothers' love and devotion." He suggested that one Sunday each year be dedicated for that purpose. Many began holding their own celebrations marking the then-unofficial holiday. This in turn led some states to pass their own holiday laws, leading to the critical mass needed for Congressional action.
President Woodrow Wilson signed the proclamation into law in 1914. The Order marked the 100th anniversary of the holiday in 2014 by donating $25 million to establish and endow The Fraternal Order of Eagles Diabetes Research Center at the University of Iowa.
The formation of Mother's Day is one of the F.O.E.'s many lasting accomplishments. Established in 1898, the nonprofit Fraternal Order of Eagles is made up of 800,000 members based in more than 1,500 aeries and 1,300 women's auxiliaries around the nation. The organization raises in excess of $100 million each year to benefit local communities and charities and support medical research and treatment of a host of conditions.
Hering was at a time when he first began to recognize the impact of his own mother on his life, which in turn touched so many others.
At 3 years, the child says "Mommy I love you."
At 10 years, the child says "Mom, whatever!"
At 16 years, "Mom, you're so annoying."
At 18 years, "I'm leaving this house."
At 25 years, "Mom, you were right!"
At 50 years, "I don't want to lose my Mom."
And at 70 years, "I would give up everything to have my Mom here with me."
###
Official Website: http://www.foe.com
Mother's Day Video: https://youtu.be/BtJyjSdUJMc