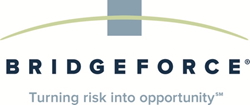 Chadds Ford, PA (PRWEB) May 05, 2016
Bridgeforce was invited by the Small Business Financial Exchange (SBFE) to speak at this year's Annual Member Meeting, held in Phoenix, AZ. Matt Scarborough, CEO and Michelle Macartney, Managing Director, of Bridgeforce, held a session titled, "Disputes and Evolving Legal and Compliance Considerations for Data Furnishers."
In the session, Matt covered specific court decisions and regulatory requirements for firms furnishing data to consumer reporting agencies (CRAs) and managing disputes processes. Michelle discussed the hot topics and success considerations for compliance around consumer reporting and disputes, including additional information on the importance of data quality for data furnishers. The discussion then focused upon the potential implications of these developments in consumer reporting for furnishers of small business data.
If you would like to receive a copy of the presentation, send an email requesting the SBFE Presentation to ctrautman(at)bridgeforce(dot)com.
About Bridgeforce
Bridgeforce is a specialized multi-national consulting firm serving a variety of clients involved in all aspects of the consumer and small business lending and payments space. Over 75 percent of Bridgeforce consultants come directly from client-side leadership positions across multiple parts of the credit lifecycle. Combined with subject matter expertise in operations, technology, strategy and regulatory issues, Bridgeforce has the knowledge and experience to make the hard choices in developing and implementing best-fit solutions that are both achievable and lower the risks of execution to ensure sustainability. Bridgeforce success can be attributed to a culture fostering innovation and evolving experienced-based best practices recognized within the industry. For more information, visit http://www.bridgeforce.com.