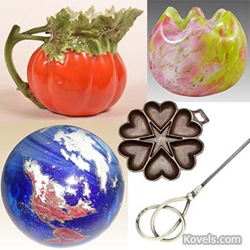 Cleveland, Ohio (PRWEB) May 05, 2016
The Kovels.com antiques and collectibles experts know that a carefully chosen vintage item would be a thoughtful Mother's Day surprise. Celebrate Mom with a one-of-a-kind gift she won't receive from anyone else. Kovels offers 5 ideas for vintage gifts that any mother would love:
1. Antique or vintage hairpin. Two-pronged hairpins were popular during the Victorian era to secure and decorate a woman's up-do. A 9-inch long Edwardian sterling silver hairpin in a "love knot" shape would be perfect for today's looser up-dos or to secure a favorite straw hat. It sells for $65 in an online shop.
2. Funky pitcher. A large, bold Royal Bayreuth tomato pitcher is just waiting to be filled with water, iced tea, lemonade or even Bloody Marys. Royal Bayreuth porcelain jars, pitchers and teapots shaped like fruits, leaves, flowers, animals and people are collector favorites. "Royal Bayreuth" is the name porcelain that has been made since 1794 at the Royal Privileged Porcelain Factory in Tettau, Germany, and the oldest porcelain factory in Bavaria still in operation. The tomato pitcher sold for $135 at an antiques auction in Pennsylvania.
3. A rose bowl. What is a rose bowl? Collectors define it as a bowl that turns in at the top, but does not turn out again. It may have a smooth, crimped, or scalloped rim. Rose bowls were most popular from the 1880s to the 1920s and were ideal for displaying old-fashioned roses with heavy blossoms and short stems. They still are. This 19th-century art glass rose bowl is pink, white and chartreuse spatter glass cased in clear glass. It sells for $45 in an online shop. Of course, it must be filled with roses before giving it to Mom.
4. Vintage cast iron mold. They are sturdy kitchen helpers that make it possible to bake batter into ears of corn, hearts, swirls and stars. There are pans for fancy rolls, popovers, and little cakes, muffins and loaves of bread. The pan pictured here is a true "gem," a Griswold heart and Star gem pan sold for $825 at a Precent auction. But cast-iron molds (and pans) are plentiful today at flea markets, thrift shops and online auctions. Bake something in it, though, and give it to Mom along with the mold.
5. Paperweight. Tell Mom she's the best in the world with this vintage art glass paperweight picturing topographic details of Earth. Paperweights come in all shapes and materials, but art glass paperweights are among the most collectible. Who wouldn't want to see a carefully chosen design cased in smooth, clear glass sitting on the desk? It would make the work papers under it seem less daunting. It could also sit on a stack of napkins outside on a breezy day. This world paperweight is by Lundberg Studios of Sweden, c.1990, and sells for about $145.
Of course, the Kovels suggest that a great Mother's Day treat would be to take mother to an antique show or flea market. Many have special Mother's Day hours and celebrations. Kovels' Antiques and Collectibles Price Guide 2016, with 32,000 prices and 2,500 color photographs, available in Kovelsonlinestore.com, is a great take-along and gift idea.
About Kovels.com
Kovels.com, created by Terry Kovel and Kim Kovel, provides collectors and researchers with up-to-date and accurate information on antiques and collectibles. The company was founded in 1953 by Terry Kovel and her late husband, Ralph. Since then, Kovels' has written some of America's most popular books and articles about antiques, including the best-selling Kovels' Antiques and Collectibles Price Guide, now available in its 48th edition. The website, Kovels.com, online since 1998, offers more than a million free prices, and includes a free weekly email, "Kovels Komments." It gives readers a bird's-eye view of the market through the latest news, auction reports, a Marks Dictionary, readers' questions and answers and much more.
Contact Information:
Liz Lillis
216.752.2252
Pr(at)kovels(dot)com