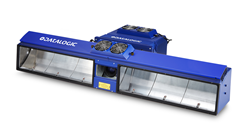 "We have the largest installed base of linear cameras in the world and the development of this camera brings together unique technologies that are the result of our extensive experience."
Telford, PA (PRWEB) May 05, 2016
Datalogic, a global leader in Automatic Data Capture and Industrial Automation markets, and world-class producer of bar code readers, mobile computers, sensors, vision systems and laser marking equipment, announces the new AV7000 long range camera. The AV7000 is the most powerful linear camera in the Auto-ID market and offers the best reading performance with unique features and benefits specific to transportation and logistics applications.
The new AV7000 is a key element for solutions in the transportation and logistics market. It was developed by Datalogic to satisfy and exceed the most demanding needs found in applications such as parcel sorting for express courier and retail distribution. With a large field of view (1400 mm -55 inches), the AV7000 collects high definition images in a single picture. This avoids the "puzzle effect" created when images are stitched from multiple partial pictures. Full definition, highly compressed JPG images are saved in real time to local or remote servers for operational analysis providing an exceptional platform for data intelligence and process optimization.
Thanks to the Datalogic patented Pulsed Lighting System, a multi-sided AV7000 reading station has a small footprint. These solutions can be installed into 50% less space than non-pulsed lighting systems. "The AV7000 is an exciting new camera that further solidifies Datalogic as a global leader in automated solutions for transportation and logistics," states Cosimo Capuzzello General Manager Identification Business Unit. "We have the largest installed base of linear cameras in the world and the development of this camera brings together unique technologies that are the result of our extensive experience."
The AV7000 has an impressive list of features including:

New generation CMOS sensor with 40% greater sensitivity
Patented PLS technology reduces the footprint of the reading station by 50%
The only camera in the Auto-ID industry able to collect high quality "single shot" complete images on large conveyors (1400 mm / 55 inch) avoiding "puzzle effect"
Patented Autofocus System offering extended DOF
Patented Digital Zoom technology with constant DPI resolution
Next generation decode algorithm reads poor quality labels on very noisy backgrounds
Stop-N-Go technology delivers 100% reading performance even with irregular speed or accelerated conveyor lines
Multiple image saving formats from full definition to highly compressed JPG formats 
Typical applications for the AV7000 in transportation and logistics include postal and courier express sorting, revenue recovery with Dimensional Weight Systems, reverse logistics processes, OCR, and video coding. Uses in distribution and retail environments include applications for large distribution centers, multimedia sorting, shipping and receiving systems.
***
Datalogic Group is a global leader in Automatic Data Capture and Industrial Automation markets. As a world-class producer of bar code readers, mobile computers, sensors for detection, measurement and safety, vision systems and laser marking systems, Datalogic offers innovative solutions for a full range of applications in the retail, transportation & logistics, manufacturing and healthcare industries. With products used in over a third of world's supermarkets and points of sale, airports, shipping and postal services, Datalogic is in a unique position to deliver solutions that can make life easier and more efficient for people. Datalogic S.p.A., listed on the STAR segment of the Italian Stock Exchange since 2001 as DAL.MI, is headquartered in Lippo di Calderara di Reno (Bologna). Datalogic Group as of today employs about 2,500 members of staff worldwide distributed in 30 countries. In 2015 Datalogic Group achieved revenues for 535,1 million Euro and invested over 48 million Euro in Research and Development with a portfolio of over 1,200 patents across the world. For more news and information on Datalogic, please visit http://www.datalogic.com.