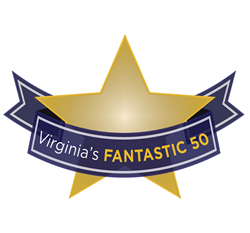 "We are grateful for the recognition and look forward to continued growth and success in Virginia" - Kamran Khan, CEO, Search Technologies
Herndon, VA (PRWEB) May 06, 2016
Search Technologies, the leading IT services firm specializing in the design and implementation of enterprise search and search-enabled big data applications, is pleased to announce that the Virginia Chamber of Commerce has once again selected the company as one of Virginia's FANTASTIC 50 businesses.
On Thursday, April 28th the Virginia Chamber unveiled its 21st annual list of Virginia's fastest growing companies. The program recognizes the success of Virginia entrepreneurs and their contribution to the state's economy. Search Technologies has received this prestigious recognition for seven consecutive years.
"To be ranked among the 50 fastest growing companies in the state of Virginia is a huge accomplishment and honor for everyone here at Search Technologies," said Kamran Khan, CEO of Search Technologies "We are a company of more than 200 employees who work very hard to provide the very best solutions to our customers and this award is a direct testament to that. We are grateful for the recognition and look forward to continued growth and success in Virginia and throughout the world.
Headquartered in Herndon, Virginia, Search Technologies has offices in the U.S., UK, Germany, Czech Republic, Philippines and in Central America. Search Technologies' customers include EMC Corporation, Adecco Group, U.S. National Archives, and the Library of Congress.
The Virginia Chamber of Commerce's FANTASTIC 50 awards recognize leading privately held businesses across the Commonwealth in various industries. Learn more about the program and this year's winners in the Virginia Chamber's recent Press Release.
About Search Technologies
With more than 700 customers worldwide, Search Technologies is the leading trusted and independent technology services firm specializing in the design, implementation, and management of search and big data analytics applications. Our experienced consultants and unique technical assets help us deliver customized search and analytics applications that are easier to use, less expensive, more powerful, and more reliable. To learn more, visit us at http://www.searchtechnologies.com.