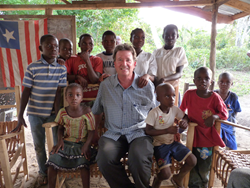 Irvine, CA (PRWEB) May 17, 2016
The leader in professional grade bird control products for commercial, industrial and residential applications, Bird B Gone has been deeply involved in giving back. The company has partnered with Children of the Nations (COTN), to help provide health, education, and security to children in third world countries around the globe. These efforts underscore Bird B Gone's commitment to go beyond products but to address the needs of "Faith, Family & Friends."
Walled Perimeter Protects Students From More Than Ebola
At the onset of the Ebola outbreak, an infected person could be sick and not even know it. To protect hundreds of children from getting sick when strangers pass through Sierra Leone's school campus, a COTN team built a wall around the 100-acre facility to keep out unwanted visitors and protect those inside.
Nursery, Primary, and Secondary Students Graduate
The rural African village of Ngolala recently held graduation ceremonies for 32 nursery, 33 primary and 12 secondary students. School administration, teachers, parents, pupils, and well-wishers of the Ngolala community thanked COTN sponsors for their prayers and contributions that made the milestone occasion such a success.
Secondary School in Sierra Leone Construction Nears Completion
COTN is actively engaged in helping Sierra Leone complete a much-needed secondary school. When finished, the school will house senior secondary school students (equivalent to high school). This will allow their senior secondary students to attend school during the day instead of in the evenings on a shift system. The school's science lab was tiled, cabinets were installed, and concrete countertops were poured.
Bird B Gone is the world's largest manufacturer and distributor of bird control products, providing effective and humane solutions to a bird-free environment. The company provides advice; training and installation services for those who need help with these and other bird control measures. For the complete line of products from Bird B Gone, call 1-800-392-6915; fax: 949-472-3116 or visit our website at http://www.birdbgone.com, e-mail: nobirds(at)birdbgone(dot)com.