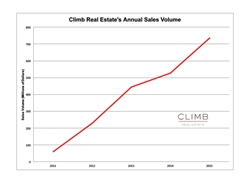 Climb Real Estate is the #7 real estate brokerage for number of transactions in San Francisco.
San Francisco, CA (PRWEB) May 06, 2016
According to the San Francisco Association of Realtors, Climb Real Estate is one of the top ten estate agencies in the city for residential property sales, with a total of over $736 million in sales in 2015. This marks a $209 million increase in total sales dollars since last year, a 140% increase.
Climb Real Estate's sales include transactions at some of the most desirable loft and condo buildings in the city, including thirteen listings at One Rincon Hill, four at The Potrero, five at One Hawthorne, four at Baycrest Towers, three at Park Terrace, five at the Madrone, seven at The Beacon, and four at Portside II.
Climb Real Estate is the #7 real estate brokerage for number of transactions in San Francisco; the ranking is determined by how many clients the company successfully represented. Climb Real Estate is also the #8 real estate brokerage for owner-represented sales and #8 for buyer-represented sales in San Francisco (measured by the number of completed sales of each type, for lofts, condos, TICs, single-family homes, and 2-4 unit buildings). Climb Real Estate ranked in the top 10 brokerages in the city by sales volume, which is calculated by adding the final sale prices of all owner- and buyer-represented property sales. This data comes from the San Francisco MLS (Multiple Listing Service); off-market and many new development sales are not included in these rankings.
The average price of a home represented by Climb Real Estate in 2015 was $1,306,260, a 23% increase over 2014. Climb Real Estate's listings were sold for an average of 5% over the asking price.
In a statement, Sales Manager and SFAR President Eugene Pak said, "Our sales numbers reflect the winning culture Chris Lim and Mark Choey have created here at Climb Real Estate. Our team is made up of people looking to take real estate to the next level, both in terms of client satisfaction and efficiency. We're always trying new things and incorporating new technology, which resonates strongly with our clients. It's hard not to be really excited about the future of Climb Real Estate."
Climb Real Estate continues its string of success in District 9, which includes SOMA, South Beach, Yerba Buena, Rincon Hill, Potrero Hill, Mission Bay, Inner Mission, and the Central Waterfront (or Dogpatch). Climb Real Estate sold a total of 273 listings in District 9 for a whopping $342,789,877.
In addition to its continued dominance of South Beach, Climb Real Estate has made significant gains in other parts of San Francisco, climbing from 17th -ranked brokerage to 9th in District 6 (Bayview, Hunter's Point, Visitacion Valley), from 20th to 9th in District 7 (Marina, Pacific Heights) and from 17th to 11th in District 6 (Haight Ashbury).
ABOUT CLIMB REAL ESTATE
Climb Real Estate is a recognized leader in the marketing and sales of Bay Area residential real estate. The San Francisco-based independent and locally-owned brokerage is proud to be the leader in the purchase and sale of a diverse array of homes: from $80,000 parking spots to million-dollar mansions, new development studios to luxurious view penthouses, live/work lofts to charming bungalows and single-family homes. With over 11 years of experience in marketing and collective sales in excess of a billion dollars, Climb Real Estate offers unparalleled marketing and sales expertise with offices in Potrero Hill, Noe Valley, Mission Bay, and Oakland's Jack London Square.