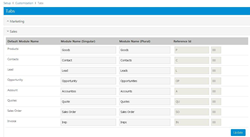 Los Altos, CA (PRWEB) May 05, 2016
SutiSoft Inc., a leading provider of easy-to-use web-based and mobile business management platforms, announces addition of new features to SutiCRM, its online customer management software. The new release of the solution puts emphasis on user interface. With quick responsive design, the application now renders on all mobile phones and tablets. It offers a brand new and intelligent user experience across all devices that help users work faster and smarter.
Tab customization:
Based on business needs, users can customize the system user interface. Options to rename tab names according to the business specific terminologies are included. Users can change the position of tabs and also hide unwanted ones. Changes will be reflected in the standard pages of user interface.
Cases module:
Users can customize fields based on the company's customer support process. Using web-to-case forms, easily capture cases directly from your website. Work-flow rules enable users to assign cases.. Follow-up on cases until resolutions are sent to clients Advanced dashboards help customize cases based on territory, employees, and chart types.
For more details about the solution please visit: http://www.suticrm.com or call us on 650-969-SUTI
About SutiSoft
Sutisoft provides a comprehensive suite of cloud-based business platforms and solutions for companies of all sizes. These platforms include scalable and easy-to-use solutions for HR, Employee Travel & Expense, Wireless Spend Management, CRM, Document Management, Business Data Analytics, and Electronic signature. Our platforms and solutions enable small, mid-size, and large enterprise customers to control costs, save time and assist in making smart business decisions. Headquartered in Los Altos, California, SutiSoft also has regional offices in Germany, India, and Japan. For additional information visit our website at http://www.sutisoft.com.