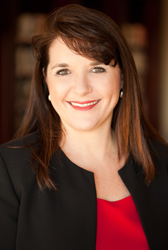 Twenty to 25 percent of the patients we currently manage have had orthopedic surgeries...so we are very skilled at managing them and understanding what their challenges are going to be.
SURPRISE, ARIZ. (PRWEB) May 05, 2016
Sun Health registered nurse Brittany Eads and executive vice president Jennifer Drago presented a talk highlighting the organization's successful Care Transitions program at the 9th Annual Orthopedic and Spine Summit held April 27-29, in Chicago.
The talk was titled "Minimizing Costs in the Post-Acute Environment Through Effective Transitions of Care."
Major changes are taking place in orthopedic care for Medicare patients including a greater emphasis on managing orthopedic surgery patients from a quality and cost standpoint, two areas where Sun Health's Care Transitions program has excelled.
"Twenty to 25 percent of the patients we currently manage have had orthopedic surgeries such as hip and knee replacements, so we are very skilled at managing them and understanding what their challenges are going to be," said Drago, who directs Population Health for nonprofit Sun Health.
Eads worked for years as a nurse on the orthopedic floor at Banner Boswell Medical Center before she joined Sun Health's Care Transitions team.
"During the talk, we were able to give actual examples and case studies of things that have happened to orthopedic patients in our program and to share the lessons we've learned," Eads said.
On April 1, 2016, the Centers for Medicare & Medicaid (CMS) rolled out mandatory bundled payments for hip and knee replacements, the most common inpatient surgeries for Medicare beneficiaries. Hospitals and doctors in 67 regions (not yet including Arizona) are now at risk for all Medicare spending for hip and knee replacements. Under bundled payments, hospitals where the surgery takes place will be accountable for the quality and the costs of care from the start of surgery through 90 days following discharge.
"If providers do a good job helping the patient recover and they manage the costs, they presumably will share in the savings of that bundled payment," Drago explains. "So there are strong incentives to help patients transition home following their surgery and to prevent them from having to be readmitted."
Studies show that almost 18 percent of Medicare patients discharged from U.S. hospitals — over 2 million seniors — are readmitted within 30 days at a cost of more than $26 billion every year. Sun Health's Care Transitions program (SHCT) has been able to buck that trend, reducing hospital readmissions for its enrolled Medicare patients to an average of 8.5 percent, based on CMS data from May 2013 to present*. That represents a 55 percent reduction in readmissions over the expected rate and has resulted in more than $11 million in savings to the health care systems since SHCT's inception.
The SHCT program is one of 46 demonstration projects funded by CMS to explore ways to reduce hospital readmissions, improve quality and achieve measurable savings for Medicare. Sun Health, which became a demonstration project site in 2013, partners with Banner Boswell Medical Center and Banner Del E. Webb Medical Center to enroll an average of 270 patients in the program each month.
The 30-day program includes a nursing assessment, chronic disease education, medication review and education, a home-safety evaluation, a fall-risk assessment and information on community resources, all provided during an in-home visit by a registered nurse within 48 to 72 hours after the patient has been discharged. Licensed practical nurses make weekly follow-up calls to check on the patient, reinforce education and confirm that doctor appointments have been made and kept. A social worker is available to assist patients who need extra support.
There is no cost to patients for the program. It is funded through a combination of CMS demonstration project funding and contributions from Sun Health Foundation donors.

The readmission data presented here is calculated using raw, unadjusted Medicare claims for the specified periods of time. They do not indicate impact or take trends or other initiatives into consideration. These metrics are provided by CMS for performance monitoring purposes only and while they inform evaluative results, they do not constitute the entirety of the program evaluation.
About Sun Health
A long-standing champion of healthy living and superior health care, Sun Health is a community-based nonprofit providing pathways to population health through philanthropy, community wellness programs and services, and senior living communities and programs. Sun Health Community Wellness includes the Centers for Health & Wellbeing, Care Transitions, Medication Management, Memory Care Navigator, Vial of Life/File of Life, and Community Education programs. Learn more at http://www.sunhealth.org and http://www.sunhealthwellbeing.org