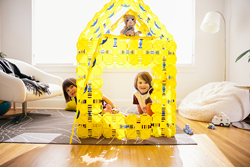 "I was very excited to have been a finalist but still didn't think we could win, given that we had only recently launched the product in September of 2015
Seattle, WA (PRWEB) May 09, 2016
Fort Boards, a Seattle company that produces children's construction toys, has won the $20,000 grand prize award in the second annual Microsoft Small Business Video Contest.
The second annual Microsoft Small Business Video Contest is for entrepreneurs and small business owners to share their stories and journeys. Striving entrepreneurs and small business owners were tasked with creating a two-minute video describing their beginnings, successes, and lessons learned for the chance to win $20,000. Voting then opened to the public through the Microsoft in Business Facebook page for 11 days where voters could view the finalists' videos and chose who they felt was most deserving of the grand prize.
Fort Boards founder, August Graube's two-minute, stop-motion animation video with voiceover captured the hearts of the contests' judges and the thousands who submitted votes during the 11-day online voting period.
"I was very excited to have been a finalist but still didn't think we could win, given that we had only recently launched the product in September of 2015," Graube recalled. "We only had 300 Facebook fans, some of the other contest finalists had over 40,000 fans. By the time I first checked the voting page, Fort Boards was already in last place by hundreds of votes."
The Fort Boards founder had underestimated the level of support for his product. Announcements to vote for Fort Boards were soon shared by children's museums, teachers, other small businesses and several blogs. "Pretty much anyone who has seen a child light up when playing with Fort Boards was voting for us and encouraging others to spread the word," Graube said.
With the grand prize winnings of $20,000 for his educational toy company, Graube plans to grow his team and introduce new product lines that have been in development.
"I brought on my first round of employees earlier this year and it looks like we'll need to add more to keep up with new demand," Graube said, "This competition will put us on the national toy map."
The money can also help subsidize one of Fort Boards's passion projects: community outreach.
"We love being a part of the educational community. Fort Boards has been so well received by schools and children's museums. We have personally gone to several children's museums and created custom Fort Boards exhibits for them. Encouraging creativity is very important to us," explained Graube, who was inspired to invent Fort Boards while working on a museum exhibit installation.
Graube is thrilled by the outpouring of support witnessed during the competition and feels emboldened to tackle new business challenges and take Fort Boards to the next level.