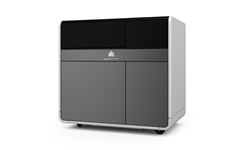 The ProJet 2500 is the breakthrough professional 3D printer solution we have been waiting for.
Orinda, CA (PRWEB) May 05, 2016
Hawk Ridge Systems announced the commercial availability of the 3D Systems ProJet® MJP 2500 Series. The 2500 Series is the latest addition to 3D Systems' professional-grade MultiJet Printing (MJP) line of 3D printers, and is designed to enable engineers and production managers to create precision models, prototypes and injection-molded-quality parts, without leaving their work environment.
Hawk Ridge Systems is among the first of 3D Systems Partners to offer the ProJet 2500 based on its experience with 3D Systems' advanced 3D printing technology and its history of customer success in professional 3D printing applications. To learn more, watch the ProJet MJP 2500 webinar.
"The ProJet MJP 2500 provides true professional capabilities at an affordable price," said Dale Ford, President and CEO of Hawk Ridge Systems. "We believe the ProJet 2500 is the breakthrough professional 3D printer solution we have been waiting for. With an attractive entry price and the flexibility on materials, this is going to change the landscape for 3D printing applications. We have built out extensive demo labs for our customers to experience first-hand the benefits of 3D printing and how they will impact their unique environment."
"We are delighted to have the opportunity to work with Hawk Ridge Systems to deliver the ProJet MJP 2500," said Mark Wright, Executive Vice President and Chief Operating Officer, 3D Systems. "With our advanced technology and Hawk Ridge Systems expertise in design and manufacturing applications, I believe we will help a growing number of professionals iterate faster and innovate better."
Watch a video to see how the ProJet MJP 2500 Series can expand workplace productivity.
Engineered to deliver detailed, true-to-CAD parts, the ProJet MJP 2500 Series features two models: the MJP 2500 and the MJP 2500 Plus. Each printer in the series is compatible with robust and versatile VisiJet® M2 materials in durable white and black plastic. These materials deliver parts with an exceptional surface finish that look and feel like injection-molded plastic and enable rigorous testing and functional use. Additional information and product specifications for the ProJet MJP 2500 Series can be found at the Hawk Ridge Systems ProJet 2500 webpage.
About Hawk Ridge Systems
Hawk Ridge Systems is a global leader of 3D engineering and manufacturing solutions. Innovative 3D design platforms include SOLIDWORKS 3D design, CAMWorks manufacturing software, and 3D printing solutions. With 17 offices in the United States and Canada, Hawk Ridge Systems is recognized as the #1 global provider of Dassault Systèmes SOLIDWORKS and for its award winning services and technical support.
About 3D Systems
3D Systems provides comprehensive 3D products and services, including 3D printers, print materials, on demand manufacturing services and digital design tools. As the originator of 3D printing and a shaper of future 3D solutions, 3D Systems has spent its 30 year history enabling professionals and companies to optimize their designs, transform their workflows, bring innovative products to market and drive new business models.
Contact Info:
Kimberly Enright
Vice President of Marketing
Hawk Ridge Systems
877.266.4469 | kimberlye(at)hawkridgesys(dot)com