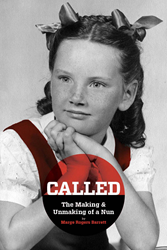 This book offers a vivid and warm view of growing up in a Catholic family in mid-century America, and what it was like to feel called, as a young woman, to make religious vows.
Minneapolis, MN (PRWEB) May 12, 2016
Called: The Making & Unmaking of a Nun, a memoir by Marge Rogers Barrett, tells of her youth as part of a large family in a small prairie town in Minnesota; of her calling by God; and of her new calling to marriage and life as both mother and teacher. Along the way, we meet her remarkable family, both reveling and suffering with her as she experiences sometimes joyful, sometimes difficult times. In the end, this is a story of resilience and spirited immersion in all that life has to offer.
Kathleen Norris writes, "This book offers a vivid and warm view of growing up in a Catholic family in mid-century America, and what it was like to feel called, as a young woman, to make religious vows. It's a familiar story: entering a convent at a young age, and leaving some years later for a vocation as a married woman and mother. But Marge Barrett has told it in such a way that the reader can experience what these times and places were truly like."
And this from Sister Mary Kraft: "This book is an absolute delight to read! It is also a wonderful reflection on a life formed by the love of a family that continues to be passed on to new generations, all the while enriching a broader surrounding community. Readers see and reflect with the author as she grows from a child to an adult, most often questioning the meaning of life with a sense of good humor. As indicated by the title, this includes five years as a Sister of St. Joseph of Carondelet, a time during which the values of family and community really take hold in an ordinary life that becomes quite extraordinary with each passing day. This book will encourage others to reflect on their lives and on the call to share a meaningful life with those who surround us."
Charles Baxter adds, "Marge Barrett's Called is completely alert to the sociology of growing up Catholic in the Midwest, and the portraits of her family members--both the fortunate and the afflicted--are lovingly detailed. The book is really a spiritual autobiography whose centerpiece is the mystery of vocation. Along with that, it is also a record of its time: popular music, Gene McCarthy, Elvis, selling insurance, children being let loose to wander around all day, the Martin Luther King assassination, the War in Vietnam. I found all this very moving, and the book itself to be entirely beautiful."
Patricia Hampl is impressed by the "trove of mid-century history Marge Rogers Barrett has mined in this engrossing memoir." Hampl adds, "Her early years as a nun offer a fascinating glimpse into that (now improbable) life, but the idea of being 'called' is much bigger, and becomes the powerful metaphor firing this probing memoir of a life first formed by certainties and mysteries, those two Catholic pole stars. Catholicism here isn't simply a religion, but a culture filled with contradiction, beauty, and frustration, especially as the changes of the Sixties tumble the certainties of faith. Barrett is an ardent, wonderfully unruly daughter in a big devout family before and after the seismic changes of Vatican II. She makes her way out of the double cocoon of family and small town Minnesota into a larger, more dismaying world without breaking her profound bond with the past. This is what memoir does at its best--gives us an individual life in order to give us our shared--or lost--history."
Marge Rogers Barrett has published a book of poems, My Memoir Dress, and her poetry and prose have appeared in numerous journals. She received an MFA in Creative Writing from the University of Minnesota, teaches at the Loft Literary Center, and conducts workshops aound the country. She and her husband live near the Mississippi River in Minneapolis.
UPCOMING EVENT
Tuesday, May 31, 7:00 p.m., book launch and celebration, Loft Literary Center,
1011 Washington Avenue South, Minneapolis, MN.
To order by mail, send $20 per book + 6.35% tax (CT only) + postage of $7 for 1 book, $9 for 2, $12 for 3-4, $20.00 for 5+ books, international postage $18 US for 1 book, $26 US for 2, $35 US for 3+.
Personal checks payable to Antrim House at 21 Goodrich Rd., Simsbury, CT 06070.
Or order at http://www.antrimhousebooks.com/barrett.html (all lower case).
Or from: https://mira-booksmart.myshopify.com/products/called-the-making-and-unmaking-of-a-nun
You can find Marge on the web at:
http://www.margebarrett.com