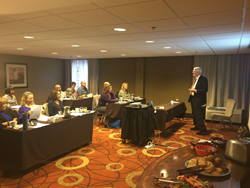 NetZealous - Knowledge, A Way Forward...
Fremont, CA (PRWEB) May 11, 2016
NetZealous, a Fremont, CA-registered organization, DBA GlobalCompliancePanel, organized a highly successful a seminar in Mumbai on Validation and Part 11 Compliance of Computer Systems and Data. Held on April 28 and 29, 2016, this seminar, of which Dr. Ludwig Huber, Chief Advisor –Global FDA compliance at Labcompliance was the Director, saw attendance from a whopping 500+ senior and mid-level managers from the pharmaceutical industry.
Some of the best names across all levels of Indian and global professionals in the fields of laboratory sciences, FDA, laboratory compliance, pharmaceuticals, medical devices, clinical trials, biotechnology, biologicals and drugs converged in Mumbai for a two-day, in person, live seminar on Validation and Part 11 Compliance.
These two days turned out to be memorable and unforgettable for many of these professionals for whom Validation and Part 11 Compliance had been posing a challenge. Not anymore, as this seminar gave them perceptive learning on all that they need for making their computer systems compliant with CSV and Part 11 requirements.
Compliance with CSV and Part 11
Laboratories need to qualify and validate analytical and other computer systems equipment to ensure that these are suitable for the intended use to which they are being put. Ensuring that the data contained in electronic records has integrity, security and availability is the reason for which compliance with FDA Part 11 and EU/PICS GMP Annex 11 requirements is essential.
A firm and complete grasp of both the letter and spirit of Part 11 and Annex 11 requirements is necessary to ensure this. Lack of understanding or implementation of these requirements leads to issuance of Warning Letters by the FDA. Recent EU and FDA inspection documents clearly show that all aspects relating to qualifying and validating, as well as electronic laboratory records are taken very seriously by FDA inspectors. This is why laboratories in turn, have to be very serious about these aspects.
This premise was the foundation for this seminar. Dr. Huber offered to participants a complete insight into the regulatory background needed for equipment qualification, calibration and computer system validation processes from planning till reporting.
Interactive sessions
The seminar was highly interactive, with half the duration of the seminar being taken up on interaction. The Director patiently handled many questions and clarifications from the participants.
The Director came up with novel and creative ways of facilitating and enhancing interaction. He created small groups of participants to work on case studies and prepare the answers using prepared fill-in templates.
And then, there was guidance on how to access and download a large variety of tools such as SOPs, validation examples and checklists on a dedicated website. Guidance and provision of these readily usable and easily implementable tools made the seminar all the more fun-filled and practical.
Value packs
A description of what Dr. Huber offered to participants to help enhance their learning is indicative of how much value this seminar had. These are what he offered to the participants:

70-page primer Analytical Instrument Qualification and System Validation (authored by Dr. Ludwig Huber)
10 SOPs related to validation and qualification of equipment and computer systems, change-control, risk assessment, maintenance, security and integrity of electronic records
Full Set of Qualification examples for an HPLC system
Full set of Validation examples
Chromatographic Data System and a Document Management System
These of course, were in addition to the templates and examples which facilitate development of inspection-ready documentation.
Partial List of the companies Participated:
The names of the participating companies were impressive: Alkem Laboratories Ltd, AstraZeneca, Cipla Ltd, Dr. Reddy's Laboratories Ltd, Ernst & Young, Gland Pharma, Glenmark, Hospira, J&J, Jubilent Generics Mysuru, Lupin, Merck, Micro Labs, Nektar Therapeutics (India) Pvt. Ltd., Novartis, Panacea Biotec Ltd., Pfizer, Piramal, Sanofi, Serum Institute, Sun Pharmaceutical Industries Ltd. Thermofisher, USV, Wockhardt, and Zydus Cadila pharmaceuticals, among many others.
Attendees Feedback:
Predictably, the seminar elicited a very positive response from the participants. These are what some of them had to say about the way it went:
"Please accept my sincere and heartfelt thanks for organizing a session on such a valuable topic on Validation and Part 11 Compliance of Computer Systems and Data" –Vikas Sayal, Manager-QA, Sun Pharmaceutical Industries Ltd.
"This seminar on Validation and Part 11 Compliance of Computer Systems was fantastic. It was really good and we gained good knowledge on the subject. We totally appreciate your arrangement, hospitality, and food at The Leela. We would love to participate in such seminars in the future" –Hemanshu A Pachegaokar, Proprietor, DHA Technologies
"Thanks for arranging such a superb seminar on Computer system validation. It was an excellent presentation by Dr. Ludwig Huber on all topics" –Rahul Jain, AGM, Lambda Therapeutic Research
Dr. Huber's Experience:
Dr. Huber was amazed with the seminar, having these words to say:
"The event was very good overall, especially considering the large number of attendees. I spoke to some of the attendees to get their feedback, and all those I spoke to were very happy with the outcome. They felt that the seminar met and exceeded their expectations. I feel encouraged to offer my services at more such seminars from NetZealous. I would like to offer my special regards to your marketing team for assuring excellent number of attendees at both locations."(A seminar was organized by NetZealous in Singapore a few days earlier, at which too, Dr. Huber was the Director)
This is how NetZealous' Team felt about the seminar
Speaking about the way in which this seminar, the biggest his organization has ever organized, went about, Founder and Chairman of NetZealous, Satisha Naraharimurthy, outpoured his feelings: "This seminar is a matter of immense pride and satisfaction for us. We have organized seminars across the globe over the years, but I should say that the numbers we gathered at this seminar are quite absurd. For the Director to have offered learning to these huge numbers of senior professionals is a feat in itself. The success of this seminar is a feather in the cap for NetZealous. It heightens our confidence about the kind of trainings we offer to the regulated industries. I would like to offer my heartfelt gratitude to Dr. Huber and all the participants for making this seminar a remarkable success story".
Shahanshah Manzoor, Founder and CEO of NetZealous, is equally overjoyed at the kind of success this seminar achieved. "Both the way in which this seminar was organized and the number of attendees were something of a phenomenon. I am completely satisfied at the way this seminar has gone. We started our seminars in Mumbai nearly five years ago, and if we continue to attract this kind of attendance even now, I should say we owe our immense thanks to the participants and Dr. Huber. Responses such as these boost our confidence in organizing more such seminars, something to which Dr. Huber himself has been receptive".
The humungous attendance and the clockwork efficiency with which this seminar was organized have given Liju Mathew, Founder and COO of NetZealous renewed vigor and energy about the prospects of holding such events in the future. This Mumbai seminar by Dr. Huber should rank as one of our organization's milestones, he said, adding that his company will look to organize more such seminars in other parts of the world, something that it has been doing for a while now.
About the Director:
Dr. Ludwig Huber is Chief Advisor –Global FDA compliance at Labcompliance, a global on-line resource for validation and compliance issues for laboratories.
He has been Chairman, presenter and panel discussion member at US-FDA Industry Training sessions and conferences, and served as team member of PDA's task force's "21 CFR Part 11", of US-FDA internal documents, and of the GAMP® special interest group on Laboratory Systems.
In addition to being awarded "Presenter of the Year of the Institute for Validation and Technology", Dr. Huber has authored the books, Validation and Qualification in Analytical Laboratories, and Validation of Computerized Analytical and Networked Systems.
About NetZealous:
NetZealous, a Fremont, CA-registered organization, dba GlobalCompliancePanel offers a broad range of high quality regulatory and compliance-related professional trainings and services relating to medical devices, pharmaceutical, FDA, clinical trials, laboratory compliance, biologicals, drugs, food and biotechnology.
Buoyed by its success in being providers of professional training in its core areas of regulatory compliance, healthcare and human resources; NetZealous will be starting a new area of professional trainings. Having earned a reputation as premier providers of professional trainings, NetZealous is on the way to building another brand, ITTrainingCenter.
This portal will cater to the needs of IT professionals across the globe. ITTrainingCenter will cater to experienced and qualified IT professionals. It seeks to address minute and intricate areas of their expertise that could have developed into their domain and seeks to clarify these doubts and address their areas of concern.
Some of the areas in which ITTrainingCenter seeks to offer professional trainings include Agile and Scrum Certification, Big Data and Analytics, Web App and Programming, Virtualization and Cloud Computing, Quality Management, ERP, IT Hardware and Networking, IT Security Management, IT Service and Architecture, OS and Databases, and Project Management,
Media Contact
Event Coordinator
NetZealous LLC DBA GlobalCompliancePanel
Phone: 800-447-9407
Email: support(at)globalcompliancepanel(dot)com