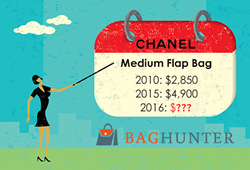 The response was unequivocal – buy Chanel handbags now as a price increase is imminent.
Beverly Hills, CA (PRWEB) May 16, 2016
An unusual spike in sales of Chanel handbags on ultra-luxury consignment website, Baghunter, has coincided with industry rumors of an impending 2016 price increase. Avid collectors have enjoyed a relatively stable couple of years in regards to Chanel bag prices, with Chanel concentrating on harmonizing their prices worldwide and only increasing prices slightly in comparison with previous years, as shown on Bagreporter.com. However, having completed their price harmonization exercise throughout 2015, industry experts expect a price hike to be just around the corner.
Adding weight to the suggestion of an impending price increase for Chanel bags is the flurry of activity witnessed on Baghunter, in particular from regular VIP clients who purchase handbags as an investment piece. Although the precise date of the impending price increase remains unknown, it is very likely that at least one price hike will occur in 2016, making now the perfect time to invest in a Chanel bag.
"The unusual sustained surge in sales of Chanel handbags over the last couple of months spiked our interest," said Baghunter CEO, Evelyn Fox, "So we decided to look into it further and reached out to some VIP club clients who were purchasing Chanel bags to try and identify the reason behind the sudden rush. The response was unequivocal – buy Chanel handbags now as a price increase is imminent."
Excluding the price harmonization of last year, Chanel is known for regular price increases. For example, a Chanel Classic Medium Flap Bag in black lambskin increased in price from $2,850 in 2010 to $4,900 in 2015, an increase of just over 40% in the space of only five years. This kind of price increase has also been witnessed in a shorter space of time with the latest mainstay in the Chanel collection, the Boy Bag. Released in 2012, the Small Boy Flap Bag originally retailed for $2,600, while the Chanel Medium Boy Flap Bag retailed for $3,200. In 2015, the Small Boy Flap Bag increased to $4,300 while the Medium Boy Flap Bag increased to $4,700, representing a 40% and 30% increase respectively.
About Baghunter
Baghunter is an A+ rated BBB accredited business which buys, sells, and consigns ultra-luxury handbags and purses including brands such as Hermes and Chanel. Baghunter also offers an authentication service for every bag sold through the website, a Bag Bespoke service for customization of bags with Swarovski crystals or bespoke artwork, a Bag Concierge service to help clients find rare and unique handbags, and a VIP Club which offers benefits to avid purse collectors.