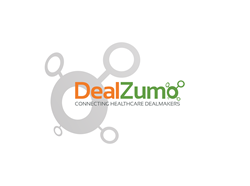 DealZumo helps connect healthcare business owners and their advisors with healthcare specific acquirers, lenders and investors.
Charlottesville, VA (PRWEB) May 11, 2016
DealZumo is an online hub connecting healthcare-focused buyers with sellers, and capital providers with capital seekers. The platform confidentially connects potential dealmakers and simplifies the process of buying, selling and financing medical businesses.
DealZumo is the first health care-specific marketplace focused on mergers and acquisitions and capital deployment. Because the platform is focused exclusively on the healthcare space, DealZumo brings an expertise that can fast-track buying, selling and funding for health care businesses.
The platform includes an intuitive interface complete with proprietary tools, transactional resources, and the most comprehensive database of high quality healthcare buyers, sellers, capital seekers, investors and lenders in the marketplace. Here are a few of the online resources offered:

Access. DealZumo's platform confidentially matches sellers and capital seekers with qualified, healthcare-focused buyers and capital providers, based on specified criteria.
Templates. High quality legal and financial document templates professionally developed to keep the transaction on the right track to selling and financing.
TransactionStream. Get the latest transaction news, deal comps and data from our sortable, downloadable deal database.
Deal Tracking Portal. Keep the deal moving with a convenient deal tracker.
White Papers: Broaden users' understanding of the market with an in-depth analysis of the healthcare industry.
Webinars. Get the latest insights from industry professionals on buying, selling, raising capital and investing.
Articles. Learn transactional tips from an extensive library of "how-to" articles.
For a small monthly subscription, healthcare business owners, M&A advisors and entrepreneurs list their business opportunities and are connected with serious professionals who are looking to buy and invest in healthcare businesses. Unlike other transaction websites, we don't charge success fees or commissions. In addition, buyers and capital providers can initiate contact for no charge, and sellers and capital seekers can decide which ones to respond to.
DealZumo is launching with more than 250 businesses already listed, so users can start searching for acquisition and investment opportunities right away. Visit website to learn more. Here's a short informative video about how DealZumo works.