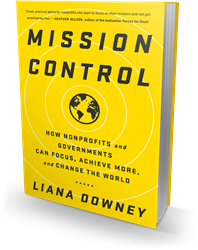 Mission Control helps organizations develop a powerful strategy, increase impact, and change the world.
Boston, MA (PRWEB) May 10, 2016
Bibliomotion is thrilled to announce the launch of MISSION CONTROL: How Nonprofits and Governments Can Focus, Achieve More, and Change the World by Liana Downey (May 10, 2016).
"Organizations that change the world share one critical feature. They systematically identify and target their efforts in their sweet spot—the intersection between what they are good at, what the world needs, and what works."
– Liana Downey, Mission Control
Why do some nonprofit and government leaders actually succeed in changing the world, while others struggle to point to their impact? What links the eradication of smallpox, the housing of 100,000 chronically homeless individuals, or the remarkable reduction of the incidence of malaria? Successful social sector organizations share a laser-like focus on their goals. They deliberately identify and target their efforts in their sweet spot — the intersection between what they are good at, what the world needs, and what works.
Yet most leaders lack focus. The nonprofit sector is growing at an incredible pace, but as the number of organizations grows, so does the competition for funding. As a result, many organizations are chasing grants, tweaking and adding to their core activities to match what they think funders are looking for. The result is colloquially known as "mission creep"— organizations trying to be everything to everyone. Research suggests that the more goals individuals or organizations pursue, the less likely they are to achieve them, leaving leaders overwhelmed, underfunded, and unfulfilled.
MISSION CONTROL: How Nonprofits and Governments Can Focus, Achieve More, and Change the World is a pithy how-to guide packed with practical examples to help leaders find their focus and take control. Building on two decades of international experience leading and advising governments and nonprofits, Downey lays out a simple, clear process for how leaders can develop a powerful focused strategy to help make decisions, increase impact, and change the world.
MISSION CONTROL provides actionable strategies for preventing mission creep and includes case studies to help readers learn what they should and should not do if they seek to improve impact.
A few of Downey's effective strategies for addressing mission creep include:

Strategy before structure: Get a leader in place and work out where you are headed and how you want to get there. Then, and only then, think about how your teams should be structured, who should be involved, and if and when you may need to get someone external involved.
Get the facts: Gather and clearly communicate critical information such as who your clients are, where they live, which other organizations are working in the sector, and which laws and regulations are most likely to impact your work.
Narrow it down: Determining your goal should involve your mind and your heart. If your organization could only deliver one thing for your clients, what would you choose? Choose the outcome that will have the biggest difference for your clients.
Tell a great story: One of the unique things about telling a story in the social sector is that you are inviting your audience to step in and play a part in your story. The best way to do this is to keep it simple, powerful, and adaptable.
Use positive language and imagery: Refer to the strengths your clients bring to their challenges and what they have to offer the world. Most people want to be a part of a positive change, and this will help create two-way, long-term relationships with supporters.
Drawing on compelling case studies and two decades of experience working with government and nonprofit organizations, including leading the government and nonprofit practices of McKinsey & Company in Australia, Downey offers a practical and much-needed playbook for nonprofit success.
Liana Downey is an internationally acclaimed strategic advisor dedicated to creating social change. As executive director of Liana Downey & Associates, Downey leads a high-performing global team that helps visionary social leaders and organizations increase focus and change lives. Clients include innovative social enterprises, global nonprofits and groundbreaking leaders from federal, state, and city governments, such as the Community Resources Exchange, Speak Up Africa, Community Solutions, the Nature Conservancy, the New York City Education Department, Children's Aid Society, and the Administration for Children's Services. Downey also advised large multinationals on growth strategy,and established and led the social and public practices while at McKinsey & Company Australia for more than a decade. Downey holds an MBA from the Stanford Graduate School of Business (Arjay Miller Scholar) as well as bachelor degrees in mathematics and in arts from the Australian National University, and serves on the board of Room to Grow, an innovative nonprofit dedicated to improving the lives of families living with poverty.
AN INTERVIEW WITH LIANA DOWNEY
Q: What prompted you to write this book?
A: I hear from leaders on a regular basis that they feel "overwhelmed, under-resourced, and exhausted" from trying to be everything for everyone. I know how they feel. When I was younger, I ran a national program for a large nonprofit. Despite lots of advice and time spent going through a strategic planning process, what we really had the end was a big fat document that no one ever looked at again. Because that process hadn't really forced us to make choices, and pick one or two things that we were going to really deliver, our energy and efforts were spread over many of programs and approaches. It was mission creep, big time. Over time, I realized this was a problem for many organizations, not just ours. I set out to tackle this issue and have now spent almost two decades studying, developing, implementing, and refining a simple, clear process for helping leaders make choices and increase their impact. Mission Control is for all the hard-working leaders of nonprofits, social enterprises, and government who need help but are pressed for time and money.
Q: In the book, you discuss Vision, Mission, Goals, and Values. How do you differentiate between each and is any one more important than the other?
A: You can think of a "vision" as the end state you are working to achieve, like ending hunger. "Mission" is how you will get there—say by distributing unused restaurant food. Your "values" are distinctive and fundamental to you and your organization; they are about the way you work. An example of a value may be that above all, clients are treated with dignity and respect. But it is actually the "goal" that I am most passionate about. Goals are the clear, achievable steps that will get you to your long-term vision and mission. For example, your goal could be to halve the number of children who report coming to school hungry in Madison, Wisconsin. There is a lot of research to show that goals, and in particular one really spine-tingling goal for people to work towards, is by far the best way to drive change.
Q: In Chapter 5, you stress the importance of identifying the root of a problem before addressing its symptoms. What are some steps leaders can take to avoid making major policy mistakes?
A: Yes, it's a sad fact that there are many lives are being impacted by major policies and approaches that don't always have rigorous work behind them. All leaders, especially ones under pressure, can make the mistake of jumping on a policy bandwagon. In Mission Control, I share the story of how people got terribly excited about the new Eastern State Penitentiary model and rolled out about 300 prisons worldwide—before people realized that not only was it not effective in reforming prisoners (as had been hoped), but in many cases it proved to be downright brutal.
The main thing a leader can do to avoid these kinds of mistakes is to start with the end goal in mind, rather than with a potential solution. Instead of saying, "we want to provide healthy eating programs," start by saying, "we want to reduce obesity." This allows you to think more broadly about the full range of options that may be available to achieve your goal. By thinking broadly before you go narrow, you are more likely to find your sweet spot. So think through all the ways you could achieve your objective. Then consult experts to find out which options have the most likelihood of success. From those that are known to work, choose the ones you are uniquely positioned to deliver. This method can dramatically increase your impact.
Q: You write that social enterprises are different from traditional businesses in that they combine profit and social benefit. What is one strategy that social leaders can use to accomplish both?
A: There is a lot of experimentation with new models of funding important work. That's incredibly exciting, because there's so much important work to be done. But I've seen that the best strategies align the business model and the social work—I love models where people employ individuals who might otherwise have a hard time finding work, and make sure they are paid properly. There's no better way to change someone's life than through meaningful work.
Q: Do you think the pressure is greater on nonprofit and government leaders than it has been in the past?
A: Absolutely! There is tremendous pressure on leaders today. The gap between the demand for services and the need for funding continues to widen. This is as true for governments as it is for nonprofits. I've seen organizations and departments with crumbling infrastructure and technology, struggling to meet the needs of clients. Leaders have no choice but to improve their efficiency — they are asking themselves, "How can I have more impact, with the same or fewer resources?"
It's not easy. In the last month alone, I have had conversations with major umbrella organizations whose members—health care and human services providers—are facing the blows of major budget cuts. While there's a lot of innovation and energy around finding new models, many people are working really hard to make an impact and make ends meet at the same time. That's why I am so passionate about sharing tools and approaches that help people focus their work on the areas that drive the most impact. It's one of the best ways I've found to help leaders change the world.
PRAISE FOR MISSION CONTROL
"Readers will find this book an invaluable guide to identifying their options and setting goals; Downey has created the ultimate get-a-move-on guide for nonprofits that are trying to do too much and accomplishing too little as a result." – Publishers Weekly
"Great, practical advice for nonprofits who want to focus on their mission and not get stretched too thin." – Heather McLeod, author of the best-seller Forces for Good
"Mission Control is an exciting and timely challenge to non-profits and government organizations to revisit their mission and regain focus. Liana Downey shows leaders how to reset aspirations at a high level, to inspire and genuinely make a difference to the lives of those they serve." – Robert McLean, director emeritus, of McKinsey & Company; chair, The Nature Conservancy Australia
Focus, facts, stakeholders, strategy – Mission Control leads you through all of these basics and other critical elements, wisely not glibly. If you're new to the arena of social change, read it. If you're a veteran, refresh on it." – Peter Goldmark, former CEO Rockefeller Foundation and Chairman and CEO of the International Herald Tribune
"This book doesn't only tell you what to do, it patiently takes you through how to do it: non-profit strategy in a nutshell, minus the over-simplifications and dogmatic frameworks upon which many lesser efforts are built." – Tom Rippin, CEO and founder, On Purpose (UK, France)
"Liana is a true leader who brings rare clarity and insight that helps government and community organizations define and achieve their mission. Mission Control is more than a must-read, it's a practical tool to enable many more leaders to translate their intentions and effort into clearly realized impact for the benefit of people and communities." – Rosemary Addis, founder and chair, Impact Investing Australia
"Mission Control is a great tutorial for nonprofit leaders who are determined to accomplish big goals, even during an era of growing distractions and diminishing resources." –Kathryn Wylde, President & CEO, Partnership for New York City
"Mission Control is a timely and practical playbook for the not for profit and government sectors. Liana Downey knows how to get results." – Rosanne Haggerty, CEO of Community Solutions, Macarthur Fellow, Ashoka Fellow, Recipient Jane Jacobs Medal
"As momentum gathers globally to reorient our social system around the outcomes we want to achieve rather than just counting the actions we take, Mission Control offers a practical path for leaders to refocus their organizations' efforts on what matters most." – Antony Bugg-Levine, CEO, Nonprofit Finance Fund; coauthor of Impact Investing
Bibliomotion is a book publishing house designed for the new publishing landscape. While many publishers work to retrofit old processes for new realities, Bibliomotion was founded by book-industry veterans who believe the best approach is a fresh one – one that focuses on empowering authors and serving readers above all else. Moving away from the top-down model that has dominated the publishing process for years, we give each member of the team – including the author – a seat at the table from the very beginning and in doing so, work side-by-side to launch and sell the best content possible, making it available in a variety of forms.