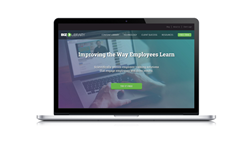 "Our new website makes it easy for our visitors to quickly navigate and find key information about our employee training solutions."
Chesterfield, Mo (PRWEB) May 05, 2016
BizLibrary is proud to announce the launch of its newly redesigned website.
Launched on Monday, May 1st, the fully-responsive website offers a comprehensive overview of how BizLibrary improves the way employees learn by providing scientifically-proven employee training solutions that engage employees and drive results.
New enhancements include:

Fresh new design and logo
Simple and intuitive user experience
Mobile responsive design
Improved video previews
The BizLibrary Experience, a perfect mix of award-winning content, powerful and innovative learning technology, partnered with a dedicated client success team, sets organizations up for success. Users can easily explore the BizLibrary Experience with a new, simplified layout and intuitive navigation, and find high quality content on every page.
Visitors can explore the BizLibrary Collection and preview video lessons, compare the different learning management options BizLibrary has to offer, hear first-hand from BizLibrary clients on the business challenges they have overcome since partnering with BizLibrary, and much more.
Another enhancement to the site can be found within the resources section, where visitors can find complimentary eBooks, how-to competency guides, infographics, and upcoming webinars on best practices and tips on employee training and development, leadership development, or making a business case for training investments.
Visitors are encouraged to explore BizLibrary's new website here: http://www.bizlibrary.com
"We are excited about our new website launch and the amount of information it provides for our customers, partners and visitors," said Dean Pichee, President and Founder of BizLibrary. "Our new website makes it easy for our visitors to quickly navigate and find key information about our employee training solutions."
"Our main objective of redesigning the website was to provide an easier way for visitors to learn about the BizLibrary Experience and how our training solutions are enhancing organizations' business performance by improving the way their employees learn," said Erin Pinkowski, Marketing Director at BizLibrary. "After months of hard work, we are excited to finally share the new site with the learning and development community and couldn't be more proud of the end result."
BizLibrary's new website will be updated on a regular basis with upcoming events, webinars, blogs and news.
About BizLibrary
BizLibrary is a leading provider of online employee training solutions. Our award-winning online training library contains more than 5,000 micro-video lessons, video courses, interactive videos, and elearning courses covering a wide variety of topic areas and includes additional support materials to further increase learning retention.
Our learning technology platform is powerful and easy to use. All of our online training solutions are mobile-ready, allowing learners unlimited access to training content on any device, anytime and anywhere for true just-in-time learning. Engage your employees and drive business results by improving the way your employees learn with BizLibrary. Learn more at http://www.bizlibrary.com.