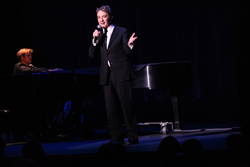 New Brunswick, NJ (PRWEB) May 05, 2016
On April 30, 2016 the State Theatre Benefit Gala, featuring comedian Martin Short, raised $574,839 for the not-for-profit performing arts center. Proceeds from the Benefit Gala support the State Theatre's acclaimed artistic and educational programs.
"It was a great mix of entertainment, philanthropy, and social engagement; and for such a great cause—supporting the mission of the State Theatre," commented State Theatre President & CEO Tom Carto. "I want to say thank you to the Gala committee, board, staff, and volunteers who were so key to our accomplishments for this event."
This year's gala featured a performance by comedian Martin Short. Short performed his hilarious variety show, dressing up as some of his most memorable characters including Ed Grimley and Jiminy Glick. In costume as Glick, Short's featured guest for an interview segment was New Brunswick Mayor Jim Cahill who received lots of applause for holding his own with the legendary comedian.
The State Theatre Benefit Gala 2016 recognized three honorees this year—Corporate honoree, Aon Hewitt; Patron honorees, Joan and Robert Campbell; and Leadership in the Arts honoree, Greater Media New Jersey.
"First and foremost we want to thank everyone for their remarkable leadership. The commitment you have made to those who benefit from the incredible impact of the State Theatre is truly something special," said Diana Robinson, Executive Vice President, Aon Hewitt. "Aon Hewitt was so proud to join the State Theatre for this year's gala and represent your great work in accepting the Corporate award. The collective work matters in some big and lasting ways. It's who we are, together, as partners."
"Joan and I were extremely honored to receive this recognition, especially knowing the outstanding recipients who have preceded us over the years," said honoree Robert Campbell.
"Gala is a powerful word. The State Theatre's 2016 Gala exceeded all expectations. Martin Short brought us to a happy place, and that was followed by wonderful food and conversation and plenty of fun ways to part with a few dollars," said Dan Henrickson, Station Manager of Greater Media New Jersey. "But the best part, it made our cherished State Theatre able to march forth with its mission."
More than 400 patrons attended the Black-Tie Dinner Dance at New Brunswick's The Heldrich Hotel. Among the attendees were community, arts, business, and civic leaders from central New Jersey and around the state. In addition to the concert, Gala festivities included a dinner reception, a silent auction with almost 70 items, open bars, dessert bars, dancing, and live music.
"We were thrilled to return for a second year as Gala Co-Chairs," commented Gala Co-Chairs Brent and Susan Podlogar. "We would like to sincerely thank the entire Gala Committee for all their hard work and dedication in making this year's event yet another success."
The State Theatre Benefit Gala 2016 committee included (Gala Co-Chair) Brent Podlogar of Flemington; (Trustee/Gala Co-Chair) Susan Podlogar of Flemington; (Trustee/Gala Vice-Chair) Jacqueline Hancock-Pena of Perth Amboy; (Vice Chair/Gala Vice-Chair) Scott Fergang of Ramsey; Dee Abedradoh of Kendall Park; Lisa Berlin of Highland Park; Madiha Boraie of Milltown; Cathy Gombas of East Brunswick; Eileen Harkins of New Brunswick; Dan Henrickson of Yardley, PA; (Trustee) Bill Herman of Clifton; David and Carolyn Horn of Skillman; Ernie W. Knewitz of Millburn; Curt Lang of Flemington; (Trustee) Andrew J. Markey of Basking Ridge; (Trustee) Richard T. McDonald of Millstone Township; Mary Ellen Morris of Somerset; Karen Needham of Hillsborough; Linda Piscadlo of Somerset; John Reissner of Tinton Falls; Maggie Stavrianidis of Somerset; (Trustee) Peter Stavrianidis of Somerset; and Jennifer Zimmer of Edison.
The Emerald Gala Sponsors included: Aon Hewitt, Joan and Robert Campbell, Greater Media New Jersey, and Johnson & Johnson.
Platinum Partners included: American Benefits Consulting, An Alliant Insurance Services Company and Russell and Stephanie Deyo.
Gold Partners included: Aetna, BALLARD SPAHR LLP, Boost Rewards, EY, Bill Herman, Horizon Blue Cross Blue Shield of New Jersey, Investors Bank, KPMG LLP, Magyar Bank, Mercer, MetLife, Pacific Resources Benefits Advisors, LLC, Prudential, Saint Peter's Healthcare System, Trion Group, Willis Towers Watson PLC, and Xerox HR Solutions.
State Theatre, a premier nonprofit venue for the performing arts and entertainment. The theater exists to enrich people's lives, contribute to a vital urban environment, and build future audiences by presenting the finest performing artists and entertainers and fostering lifetime appreciation for the performing arts through education. The State Theatre's programs are made possible, in part, by funding from the New Jersey State Council on the Arts/Department of State, a Partner Agency of the National Endowment for the Arts, and contributions from numerous corporations, foundations, and individuals. The Heldrich is the official hotel of the State Theatre. Magic 98.3 is the official radio station of the State Theatre. The Star-Ledger is the official newspaper of the State Theatre. United is the official airline of the State Theatre.
STATE THEATRE
15 Livingston Ave
New Brunswick, NJ 08901
Ticket Office - 732-246-SHOW (7469)
Online - http://www.StateTheatreNJ.org
PHOTOS AND INTERVIEWS FURNISHED UPON REQUEST
Please contact Kelly Blithe at
732-247-7200, ext. 542 or by email at kblithe(at)StateTheatreNJ(dot)org.
Up-to-the-minute information on events and State Theatre news,
online at http://www.StateTheatreNJ.org.
# # #