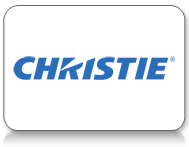 Christie projectors are always at the height of the shows; they are very reliable and produce true colors even on surfaces that are not readily suitable for projection
São Paulo, Brazil (PRWEB) May 10, 2016
The Brazilian rental & staging company Tangivel recently produced a spectacular mapping projection on the façade of Centro de Cultura Raul de Leoni in Petrópolis, a city of Rio de Janeiro state, to commemorate the anniversary of the city and the opening of this new cultural center. Two Christie® 3LCD technology projectors were used for the mapping, which covered an area of 32 meters long by 9 meters high.
The projection was organized jointly by Tangivel, specialists in mapping projections, oversaw the technical oversight and the programming of the projection, and SenseMedia, which looked after the creative content. Working together, the two companies prepared an exciting story narrating the history of the city and its distinctive features using 3D and 2D effects that wowed the audience.
The projectors, each delivering 15,000 lumens and equipped with 1.2 lenses, were installed together on a structure at a throw distance of 52 meters. The use of blending and warping was critical in adapting the images precisely to the irregular surface on which the mapping was screened.
The contents were launched from a Mac Pro using MadMapper video mapping software. With a resolution of 700x2000 pixels and an aspect ratio of 1:2.8, the projection lasted six minutes and repeated various times throughout the day.
The projectors used were part of Christie's line of 3LCD technology projectors, which are ideal for fixed installations and live events. Christie offers customers a broad range of affordable 3LCD projection solutions with different brightness and resolution options (4,000-8,000 lumens, XGA-WUXGA resolution), Pro AV connectivity capability and reliability.
Tangivel has been working with Christie for the last four years and it is delighted with the brand. "Since our first project we decided that we would work with hi-tech premium equipment, and Christie is a synonym of quality, flexibility and modernity, with fair prices and an excellent local service in our country," said Marcus Freitas, director of Tangivel.
"Christie projectors are always at the height of the shows; they are very reliable and produce true colors even on surfaces that are not readily suitable for projection, reproducing our contents accurately with great brightness and image quality. We are thrilled with the projectors, which give us a lot of confidence and credibility in regards to our clients."
Clayton Brito, Christie's Country Manager in Brazil, concluded: "We are proud to have Tangivel on our side as a valuable partner in the rental market. It is amazing to see how this company makes the most of our visualization technology to produce such a creative mapping projection."
About Christie®
Christie Digital Systems USA, Inc. is a global visual and audio technologies company and is a wholly-owned subsidiary of Ushio Inc., Japan, (JP:6925). Consistently setting the standards by being the first to market some of the world's most advanced projectors and complete system displays, Christie is recognized as one of the most innovative visual technology companies in the world. From retail displays to Hollywood, mission critical command centers to classrooms and training simulators, Christie display solutions and projectors capture the attention of audiences around the world with dynamic and stunning images. Visit http://www.christiedigital.com for more information.
Follow Christie at:
Facebook.com/christiedigital
Twitter.com/christiedigital
"Christie" is a trademark of Christie Digital Systems USA, Inc., registered in the United States of America and certain other countries.