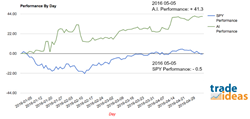 Trade Ideas [is] the first publisher of actionable market intelligence to offer robo-advisement technology that targets active investors and single issues
Encinitas, CA (PRWEB) May 09, 2016
Thanks to a combination of votes from a panel of industry experts and enthusiastic social media support, Benzinga named Trade Ideas as a Best in Class finalist for the second year in a row as part of the 2016 Benzinga Fintech Awards scheduled to take place in New York City, Tuesday, May 24th. The news comes as Trade Ideas' latest innovation, its Artificial Intelligence Investment Discovery Engine, Holly, continues to beat the S&P 500 since January, by over 40 aggregate profit points.
Holly's performance this year makes Trade Ideas the first publisher of actionable market intelligence to offer robo-advisement technology that targets active investors and single issues complementing the more popular robo-services like Betterment, Wealthfront, and Charles Schwab that are designed to be passive and for the entire retirement portfolio.
"At a time when the markets had their worst open to begin the year in history and hedge funds suffered further redemptions amid weak performance - recording net outflows of $14.3 billion in the first quarter of 2016 - Holly's performance stands out as true innovation," David Aferiat, Managing Partner at Trade Ideas, observed. Trade Ideas is attending the upcoming Benzinga FinTech Award Gala on May 24th. "We're honored to once again be a finalist in 2016. Back-to-back nominations in 2015 and 2016, with a Best in Class award for 2015, is a great industry acknowledgement that Trade Ideas is an innovator in FinTech," he stated.
Dan Mirkin, CEO of Trade Ideas added perspective, "For more than 13 years, Trade Ideas has pushed the envelope of investment intelligence for those participating in markets by delivering actionable trading ideas with successful outcomes in any type of market environment. Holly's performance and the interest the technology is generating, validates that we're on the right track."
About Trade Ideas, LLC
Trade Ideas, a leader in cutting edge, real-time scanning and alerting technology since 2002, caters to investors, traders, and market professionals in over 65 countries providing next level analytics, strategy development and optimization, and decision support for equities, options, and derivatives.
Trade Ideas' Derived Data Analytics earn praise from institutional partners as well as major online brokerages. Because Trade Ideas' solutions are based on cloud-based applications which seamlessly integrate with any firm's existing trading/research platform, the entire solution utilizes minimal bandwidth with no client-side processing. Trade Ideas Partners benefit from a continually innovating technology partner and significantly decreases idea generation and data management costs across the enterprise.
Schedule a demo or find out more about Trade Ideas LLC by calling (619) 821-8198 or visiting http://www.trade-ideas.com and signing up for a free trade idea in your inbox every week.
Like Trade Ideas on Facebook for updates: http://www.facebook.com/TradeIdeasPro
Follow Trade Ideas on Twitter: http://twitter.com/TradeIdeas